CIOReview: 100 Most Promising Technology Companies
Sep 1, 2014 | By Vindicia
Entrepreneurs across the globe are regarded as key drivers of economic and social progress. The current scenario has evolved and carries quite a lot of untapped potential, which if utilized strategically would result in successful outcomes. The evolution of technology has led to fundamental changes in the way organizations used to function. With the urgent need to adapt to these technologies, organizations worldwide are forced to deviate from the conventional ways of doing business. Along with incorporating new technologies, business leaders have to tackle the centuries-old challenges of limited budget, finding the right strategies, hiring and retaining talent and others. In short, current entrepreneurs have the tough task to take an organization through these challenging times, which require out-of-the box strategies.
However, it should be noted that these challenges are potential opportunities in disguise. For instance, the emergence of cloud, big data, mobile, Internet of Things and other technologies have been instrumental in enhancing business growth at all levels. The global economic dynamic calls for strategic use of these technologies to maintain an edge over others in the highly competitive world. Therefore, the focus should be on unearthing the potential hidden in these challenges.
In order to help enterprises across the globe gain useful insights into the latest technologies, keeping pace with these trends, the critical challenges, overcoming these roadblocks, future-oriented approach and other vital aspects on running an enterprise, CIOReview presents the 'CIOReview 100'. This is an annual honor for the best 100 technology companies in the U.S.
To address the burning need of CIOs to find cost-effective and flexible solutions, the CIOReview100 list brings successful companies together at one place. These companies have gained momentum, beating the current challenges, and would be sharing helpful information on how they achieved it. A distinguished panel comprising of CEOs, CIOs, Analysts and CIOReview editorial board scrutinized several companies to finalize the 100 best technology companies.

Vindicia: Spearheading the Consumer Subscription Space
Today's relationship between aB2C Company and their online customers hinges on an unsexy word: "Subscriptions." The fact is, recurring transactions are replacing one-off purchase processing, and subscription payment models are where an increasing amount of online consumer spending is heading. For most – if not all – content or service providers, subscriptions are the lifeline of steady, reliable revenue that keeps them afloat. However, if subscriptions are problematic, consumers are all too willing to quickly drop their membership for a competitor, or seek the same content elsewhere for free. Enter Vindicia, a provider of B2C subscription, SaaS and recurring billing solution established to make sure consumers looking to sign up for new, or reviewing existing, services never have reason to question, decide against or drop their subscription.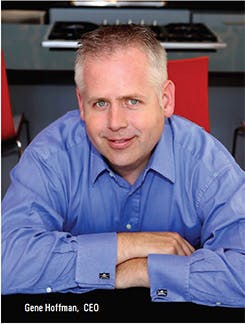 The Antidote to Subscription Headaches, Courtesy VindiciaAt its core, Vindicia keeps customers connected to the subscription services they love, and B2C companies connected to the subscription revenues they need. The firm gives consumer facing digital content and service providers'– like on-demand entertainment and subscription-based tax, tasks, games and mobile services – a reliable, scalable way to build a customer base, retain subscribers and grow revenue.
The firm's flagship product line, Vindicia CashBox, helps B2C merchants manage and track every touchpoint and possible scenario of a subscription-billing model to help companies install, grow and manage subscription systems quickly, reliably and profitably.
The company's other product line, Vindicia Select, allows B2C companies with existing subscription and recurring revenue platforms to retain their existing customers longer by deftly handling potential transaction "fails". With one of the largest databases of credit card files in the world, Vindicia is uniquely able to resolve credit/debit card subscription failures rather than deny a transaction. Select analyzes limit scenarios, diagnoses issues, and fixes the problem, resulting in improved retention and lifetime returns on consumer acquisition.
Trust In Vindicia The company caters to Over-the-Top (OTT) business-to-consumer and Online Consumer Services. Vindicia has attracted customers such as NextIssue, DirecTV, Carbonite, Intuit, NASCAR Digital Media and others. The reason for such big names putting their trust in Vindicia is because the company was from the beginning, established as a platform that uniquely understands and addresses consumer online purchasing behavior and subscription service demands. No other subscription service has the firm's level of consumer-facing awareness or service in mind. Where others in the subscription space focus on enterprise solutions, Vindicia sells software that helps business-toconsumer (B2C) brands move towards a subscription-based revenue business model, including tools for billing, accounting and analytics.
The firm has found much success in the space and in the near future will continue to offer the growing number of OTT and Online Consumer Service brands reliable, scalable and flexible subscription billing solutions to increase the number of new subscriptions while decreasing the number of drop-offs.
Read complete article