September 11, 2020 | Authored by: Vindicia Team Blogs
4 data best practices for subscription intelligence
Data is the lifeblood of business in the information age and companies have more ways than ever to capture valuable information on customers and behavior.
Yet what good is that data if it's not put to action?
For subscription-based companies, like all businesses, data-driven decision-making is the goal. Trying to determine which channels to focus on in customer acquisition, or how to reduce churn, or how to increase customer lifetime value? Data will hold the answers, though they may not be obvious from the outset.
Recently, Vindicia hosted a fireside chat with Robbie Kellman Baxter, author of books like "The Forever Transaction" and a subscription business consultant, to talk about successfully leveraging data.
Through the course of a very productive conversation, we keyed in on four best practices to help companies more successfully use data to support subscription operations.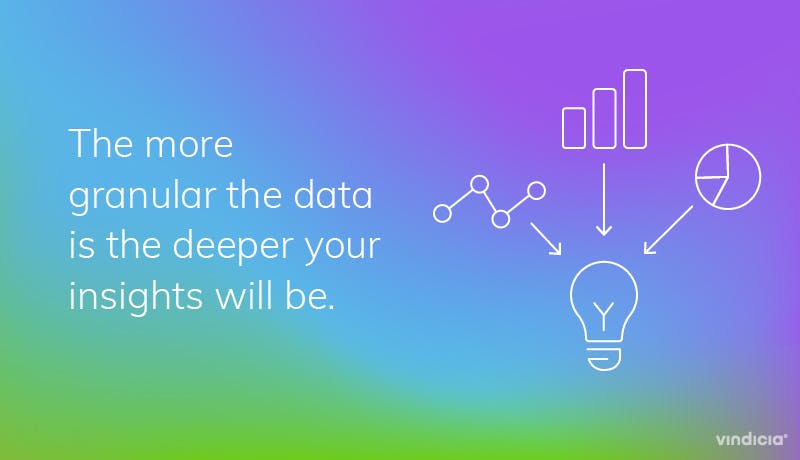 #1. Track the right metrics
The boom in the subscription economy has pulled in companies of all sizes, industries, and profiles. Some may be entirely new to subscriptions, while others may have had a prior offering but are now pivoting entirely to subscriptions.
While opportunity exists for all, the subscription business model is fundamentally different from the order of operations for businesses that were built on transactional or episodic revenue.
"A place where a lot of organizations have kind of missed the memo is that subscriptions involve wholesale changes in how you do everything across the organization," Kellerman Baxter said.
As such, companies new to subscriptions may have an entirely different way of measuring success that does not fit well with recurring revenue. Other services may be struggling to refine their KPI dashboard.
"You need to know your monthly recurring revenue and annual recurring revenue, and being able to track retention is really important," she said.
Once you have the data fundamentals in place, you can begin to go deeper with the data, for instance by tracking new customers according to acquisition source and comparing their patterns of engagement and churn with that source cohort.
#2. Eliminate the siloes
Siloed operations are a frequent obstacle to collaboration and cross-team functionality.
"One of the biggest problems that I see with organizations moving to subscriptions is that a lot of knowledge, processes, and data are siloed by functional area," Kellerman Baxter said.
A lack of information sharing leads to disjointed efforts, disparate metrics, and an overall operational dissonance that can negatively impact success and growth.
"Increasingly, there's this basic need for much more collaboration, integration and sharing of data … and metrics so that we're all working toward the same goals," Kellerman Baxter said.
Every business knows that no good can come from siloes, yet it requires action to break down these barriers.
"In order to understand what's going on, you have to connect with your colleagues across the organization," Kellerman Baxter advised.
That may mean bringing in departments not normally thought of as being adjacent to subscription operations. For example, sales and marketing can benefit from collaborating with finance on things like free trials. If you plan to drive customer acquisition for a new service by giving away access, you'll need a justification for spending on free subscribers. Looping in finance will ensure everyone is on the same page regarding metrics, expectations, and sustainable outcomes.
#3. Pursue granular data
It's important to have a baseline of subscription metrics, but in general, the more granular the data is the deeper your insights will be.
Drilling down into the specifics can help you optimize your service, deliver consistent value and provide a superior customer experience.
Kellerman Baxter recommended never stop probing for that intelligence.
"Ask questions like 'How are customers onboarding?' and 'Which features are they using?'" she said. "Frequency, recency, depth, and breadth are features that I like to look at. Do some free subscribers behave differently than others? Which ones are the most valuable to the organization?"
#4. Use identity data to drive personalization
Identity management is an increasingly important concept in subscriptions. Consider how some video streaming services support family account sharing by allowing users to create individualized profiles they can use across devices. This way, the rom-com lover can be served recommendations that aren't impacted by another family member's penchant for action movies.
At a minimum, identity management meets consumer expectations for self-service and control while still giving businesses an opportunity to increase value.
"Identity management gives organizations one more paint on their painter's palette when they're designing their offering," Kellerman Baxter said. "Leveraging identity data can help drive personalization and cultivate long-term relationships."
Effective ID management also paves the way for a seamless experience, which is important when bundling services or partnering with another company. Having a unified account from which to control and manage bundled services is imperative to engagement and meaningful use. Having to undergo authentication or reenter passwords each time a bundled service is used can create lots of friction, which may lead to cancelation.
Leverage data insights with Vindicia
It's important to keep in mind that the quality of your data is directly determined by the quality of your digital tools and subscription management platform.
More than ever, businesses need accurate, rich data across the subscriber lifecycle in order to successfully manage operations and drive success through strategies.
Looking for a solution that offers you wide functionality and deep data reporting and intelligence? Contact Vindicia today to learn about our subscription lifecycle management platform and how millions of data points have built our subscription experience. For further insight, check out our eBook "Top 9 subscription KPIs to measure revenue and growth."
Whitepaper
Which billing platform is right for B2C subscriptions?
Download
Categories