August 27, 2020 | Authored by: Vindicia Team Blogs
The dawn of the stay-at-home economy: Subscriptions are driving growth, but need flexibility to thrive
The COVID-19 pandemic has affected and disrupted life on so many different levels. One of these defining impacts is the call to stay at home, avoid large crowds, and socially distance whenever possible.
With Americans stuck indoors, they've been craving solutions to keep occupied. Subscription business models—a force before the pandemic—have thrived in the aftermath. A Deloitte study found 73% of U.S. consumers had at least one paid streaming video-on-demand (SVOD) service, a figure that rose to 80% in a post-pandemic survey. Since the pandemic, 23% have added at least one new SVOD service.
This is the dawning of the "stay-at-home" economy, and subscriptions are well-positioned to drive growth and customer experiences as the new normal begins to emerge.
But it's not just SVOD and other video streaming services that are taking off. The pandemic has forced consumers to find subscription-based replacements or alternatives to a wide range of daily activities. Let's look at how three types of subscription businesses are performing amid the pandemic and what they may tell us about the future: Health and wellness, eLearning, and home security.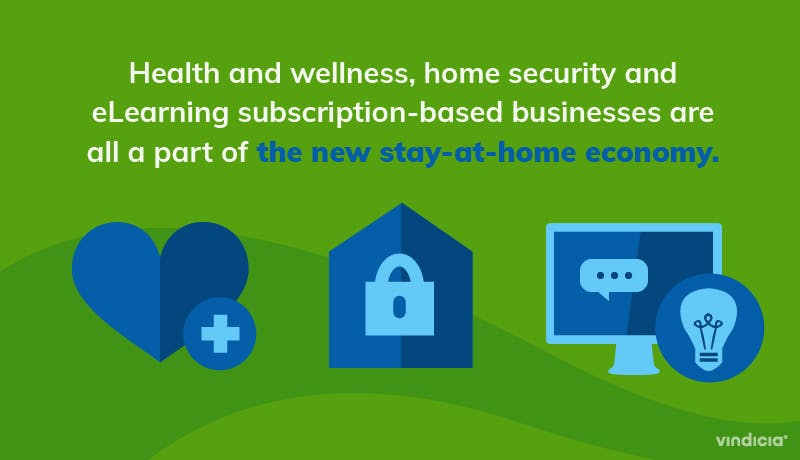 1. Health and wellness
Gyms have largely been closed or instructed to limit operations because of the risk such settings pose to virus transmission — but people still want exercise options.
Consumers who need to get their active minutes in are increasingly choosing to do so at home with digital and connected fitness. Interest in fitness equipment, including connected devices, has increased 500% since the pandemic began, according to Yelp data cited by Fitt Insider.
One brand benefiting from this boom in health and wellness subscriptions is Peloton. The company's bikes and treadmills connect to Wi-Fi, allowing users to stream both live and on-demand workout classes. Users can also view their personal activity statistics compared to other Peloton users, and set up a competitive ranking that encourages them to work and ride harder. Sales have skyrocketed since early 2020, having increased 66% in the quarter that ended March 31, CNBC reported. Peloton ended that quarter with more than 860,000 subscribers, a 94% increase year over year, and 176,600 paid subscribers, a 64% YoY increase. Total membership grew to over 2.6 million.
Other examples of the burgeoning world of connected wellness include Vindicia clients iFit and soon-to-launch Chopra "Virtually all our products sold are connected fitness, this is no longer a trend," Mark Watterson, president of iFiT, said in an interview with SGB Executive. "It's simply become 'the new normal for how consumers will work out at home and in the clubs."
It's not the only exercise that's going digital, but also self-care and mental health. Deepak Chopra, the well-known author, and mindfulness thought leader, even has a subscription service and app that offers advice and tools for well-being. The Chopra app will allow users to take better control of their mental and spiritual well-being through simple actions and expert insight.
2. eLearning
School is still in session, but the coronavirus has forced most learning to take place virtually. Classes for the 2020-21 academic year at many high-profile universities are taking place online, while local school districts have employed hybrid or 100%-distance learning models. That said, academia and learning have already evolved beyond "Zoom University" and the dependence on video conferencing tools like Zoom and Google Hangouts are keeping learning alive.
Remote learning is not simply focused on the basics that keep operations running, but also on enhancing the academic community's educational enrichment and accessibility to resources. For example, an increasing number of parents have been seeking help from resources like ABC Mouse and SkillShare to keep their students engaged, educated, and out of their hair.
At the same time, teachers are subscribing to Blackboard, Edpuzzle, and Google Classroom to bolster lessons, distribute content and spark "in-class" discussions. It's no surprise that CNBC reported the market for distance learning could reach $350 billion in 2025, more than doubling from $107 billion in 2015.
There is a range of subscription services that have revolutionized distance learning. These include subscriptions for more traditional, curriculum-based coursework, as well as services that deliver curated boxes of interactive projects that teach engineering skills or geographic knowledge.
Lots of services in this sector have focused on outreach, ensuring students, teachers, families, and others have access to helpful resources during challenging times. Our client Mind Tools, for instance, has released a free COVID-19 Support Pack. The UK-based company offers on-demand lessons in management, leadership, and professional development across more than 2,400 learning resources. With its COVID-19 pack, Mind Tools is helping to engage and empower users during difficult times.
3. Home security
The more time that consumers spend at home, the more likely they may be to make changes or improvements that make their environment more livable and secure.
In fact, a survey from home security subscription service SimpliSafe found 58% of Americans plan to make long-term investments in their home once the pandemic abates.
That means increased demand for subscriptions to smart home security and services. In particular, a Vindicia client in the home security space – SimpliSafe – offers a physical device combined with a subscription to their service. This hybrid model has been gaining popularity, giving users extra peace of mind when using a service that's made for their devices.
In particular, doorbell cameras, voice assistants and lighting fixtures that can be dimmed on a smartphone app have grown widely popular, a trend that's been further accelerated by COVID-19.
SimpliSafe is helping to meet that stay-at-home demand with DIY security. Homeowners spending more time indoors may be more inclined to take on projects themselves. SimpliSafe is a leading option for installing smart defenses and technology around the home. The service has two subscription tiers that offer 24/7 monitoring and a range of services, with a premium package that has benefits like advanced phone alerts and notifications when cabinets or safes are accessed.
Range of go-to-market strategies
While subscriptions are in high demand, businesses still need to make the effort to reach, sell to and continually engage users. Some GTM strategies employed by trending sectors of the subscription industry include:
1. Customer acquisition using freemiums
Many eLearning subscriptions are forging inroads with students and families by making their services free to use during the pandemic. Free trials and freemiums can be powerful customer acquisition tools but require careful planning, which strategy consultant and author Robbie Kellman Baxter brought up in a recent Vindicia webinar: "Leverage data-driven insights: Build and grow a subscription business."
"Some organizations give away too much, and some are categorically unwilling to do anything for free," Kellman Baxter said. "Both ends of the spectrum are missing the boat." There are specific instances in which a free trial or freemium makes sense for your service, according to Kellman Baxter.
"A free trial is offered either because the consumer doesn't believe your service is as good as you say it is, or because they don't understand your value pitch," she said. "Freemiums, on the other hand, are more about behavior change over time, like if somebody doesn't believe they're going to use your service as often as they do."
One way that freemiums can work for eLearning services is by emphasizing the network effect. Kellman Baxter mentioned that with digital communities, each new subscriber adds value for the users already there. Free trials, meanwhile, can help get customers in the door and acquainted with learning resources.
The upshot of free offers is that some users will convert to paying customers and remember how tele-education subscription services supported them during the pandemic. However, others may also opt to use the free service until it expires and then signs up again with another email address. Kellman Baxter said that it's vital that services ask what role "free" plays in their business model, even as early as product development. That way, companies have a way to see a return on investment.
2. Consider the user journey
Subscriptions stand to benefit from capitalizing on consumer expectations for experience, which is something services in health and wellness have done well.
Anybody can get an exercise bike, but only companies like Peloton allow consumers to participate in live classes, compete against friends, and record their personal data. More importantly, Peloton is committed to shaping user journeys through individualization.
The concept of user identities is crucial here. Consumers demand more than just a transactional benefit from their subscriptions. Services can counter this by looking past the account level and toward the individual user. This strategy leads to things like profiles for each user of a family account and better password management for linked accounts. Altogether, these efforts are focused on cultivating a seamless user experience that leads to long-term relationships and engagement.
Self-service is also a big impact on user identities. Being able to manage their own digital thumbprint allows exercisers to curate their profiles, connect with others and ensure their experience is consistent. Platforms that allow user identities have a major advantage in an increasingly saturated market.
3. Build subscription bundles
Bundled subscriptions have a strong draw with consumers. Being able to get more through just one subscription is an increasingly attractive pitch as subscription fatigue is setting in.
For services, bundling can mean either combining your own subscriptions or partnering with another provider. The latter can prove to be particularly fruitful for expanding consumer audiences and delivering wider value.
Home security offers a wide range of partnership and bundling opportunities. Again, SimpliSafe is a great example here. The company recently joined forces with insurance provider Hippo to court homeowners with an enticing offer. Hippo customers in select states who enroll in a smart home program will receive a seven-piece, professionally managed SimpliSafe system. In addition to homeowner's insurance, these customers will also get two free months of 24/7 interactive monitoring and a discount on their annual insurance premium.
Brands thrive on GTM flexibility
If there's one lesson from the COVID-19 pandemic, it's that everything can change fast and without warning. In such fluid conditions, subscription-based businesses need to have a high degree of GTM flexibility in order to meet the quickly evolving standards and expectations of the stay-at-home economy.
Subscription businesses in connected fitness, eLearning, and home security, as well as all other sectors of the subscription economy, will need to continually develop, roll out and assess different campaigns, products, pricing tiers, bundles, and discounts to thrive in increasingly competitive markets.
Vindicia has the solutions and expertise to help "stay-at-home" subscription businesses do exactly that. Contact us for more information about our subscription management tools and services that can be leveraged across the subscriber lifecycle.
For more insight, stay tuned for the first in our series of "stay-at-home economy" white papers that will be published soon: "5 prescriptions for healthy subscriptions: Achieving success in the health and wellness stay-at-home economy."
Whitepaper
Twelve essential steps to building subscription bundling success
Download
Categories