August 17, 2012 | Authored by: Vindicia Team Blogs
Facebook Launches Subscription Billing. Caveat Emptor
Facebook has launched its subscription billing service.
On a positive note, this is a testament to the need for social platforms to reach beyond the one-time and virtual transaction models traditionally supported, especially for those digital, game and media services that provide pure subscription billing or even hybrid models. Yet, if you read the terms closely, there are still issues that should make any digital service pause before rushing headlong to use this new capability. This is especially true because, at the time of writing, Facebook has not backed down from the 30% fee it will charge on each recurring transaction. Given the plateauing of its payments revenue (see chart below from TechCrunch), Facebook should reconsider whether they could broaden their client base beyond the gaming community if that 30% fee were significantly less.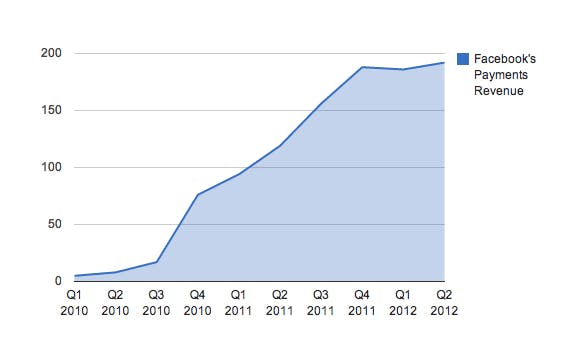 Here are some of the critical issues to think about as you consider the relevance of Facebook as a subscription billing solution.
You are limited to offering monthly subscriptions. No annual or quarterly subscriptions currently available.
For that 30%, you're still on the hook for dealing with the chargebacks that inevitably will come your way.
Who owns the customer relationship? My credit card statement would appear with a FB descriptor, not your company or name of your service.
In any subscription billing environment, the key to long-term revenue is decreasing involuntary churn. Facebook provides a one-size fits all retry logic for failed credit cards - in other words, it can't be optimized or tuned for your particular business.
We are strong believers in the idea that overcoming involuntary churn is a top contributor to customer lifetime value and therefore long-term revenue growth. Our CEO, Gene Hoffman, discusses a variety of ways to optimize customer retention in a short on-demand webinar to which I highly encourage readers to listen.
Whitepaper
Which billing platform is right for B2C subscriptions?
Download
Categories