March 19, 2021 | Authored by: Vindicia Team Blogs
Fintech subscriptions: What subscribers need but won't tell you
Dealing with money and finances is never easy. Consumer-oriented financial platforms are currently in the public eye following the fallout from the controversy involving GameStop and Robinhood. As explained by CNET, both companies played a critical role in the dispute when a group of Reddit users devised a plan to make money while wreaking havoc on hedge fund managers. Popular investing and trading app Robinhood restricted users from buying certain stocks when activity escalated and got out of control, leaving a sour taste in the mouths of many investors who were expressly seeking the investing freedom and flexibility that Robinhood promises.
Nonetheless, consumers still trust fintech solutions to meet their financial needs. Business Insider lists the following top reasons US consumers adopt fintech solutions: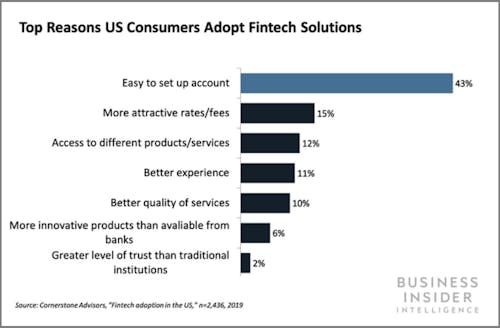 As subscriptions have become an increasingly widely adopted business model, consumer-oriented fintech companies need to consider the various aspects of the model that fit their business needs and help generate recurring revenue. Gartner predicts that by 2023, 75% of companies selling directly to consumers will offer some form of subscription.
Services and content offered by fintech companies include investment expertise, money management, and helping users develop financial literacy. As we begin the process of emerging out of the current economic downturn, the subscription monetization model is increasingly being considered by fintech companies. Subscriptions help users practice consistency while providing fintech businesses maintain ongoing relationships with customers—two activities that successful financial practices rely on.
Let's take a closer look at how fintech subscription services can learn and prepare for future growth and success.
What fintech subscribers need
When subscription-based companies are upfront about their fees and transparent about the services provided, customers may feel more inclined to agree to an ongoing subscription. Fees and information that stay hidden until after signup absolutely deters customers, according to Bradley Leimer, co-founder of financial consulting firm Unconventional Ventures.
As Leimer shared with Tech Crunch, "When we talk about subscriptions, the more clear and more transparent we are, the better."
There is a fantastic opportunity for fintech platforms to grow their user base, but there are several challenges that need to be addressed first. These challenges affect everyday subscribers and users. Some challenges that the fintech industry is facing include:
Issues with security and data privacy
Integrating big data, artificial intelligence, and blockchain
Complying with ever-changing government regulations
Issues with growth and use of effective marketing
Problems maintaining user retention and improving the user experience
Challenges around building adequate user trust and confidence
Lack of adequate security and data privacy have always been seen as a turnoff for potential users, but with more companies creating and maintaining a digital footprint, security is something that fintech companies will need to continuously improve. Recently, it was revealed that PayPal is in discussions to buy Curv, a cryptocurrency storage upstart. With cryptocurrency talks on the rise, the fintech industry may continue to be scrutinized for security purposes, but it's also an opportunity to grow as the industry makes changes to accept wider forms of digital dollars and payments.
"I think ultimately, the digital dollar is going to become a thing, and that is going to allow for better, cheaper, faster payments," Ternio CEO Daniel Gouldman told PYMNTS. "It's going to completely change the way we interact with money in a way that I don't think we're used to because we're so used to banks." Navigating these vulnerabilities and finding solutions that make users more confident in fintech will help drive subscriptions.
How fintech subscriptions can deliver better experiences for everyday financiers
Given the inherent financial nature of these platforms, subscription billing needs to be a top concern for fintech companies looking to grow and thrive in 2021. Fintech subscriptions need a billing and subscription management platform that fully understands the complexities and nuances of B2C/D2C fintech subscriptions. An effective subscription management platform operates with plenty of agility and enables subscription-based fintech businesses to craft a seamless experience for users.
Similar to eCommerce platforms, fintech platforms need to inspire enough trust and confidence from users to make them feel secure about sending or investing personal dollars through the platform. Usage and customer retention form the foundations for growth. Coinbase does a good job of instilling trust, using two-step verification and driver's license authentication on top of bank verification to ensure each user's authenticity and to prevent fraud. Because many fintech platforms serve as the middlemen between users and where their money ultimately is invested, steps for identity and accounts verification are must-haves. Fintech subscriptions are going through a transformation, and the best subscription services have these traits imbued.
On top of security, subscription-based fintech companies also need to consider the various levels and types of recurring services and purchases from which users can choose. For example, users want the option to buy certain assets or services repeatedly and others as one-time purchases. Fintech platforms should enable users to choose how often they'd like to repeat, begin or end a certain purchase.
The subscription management platform that dynamically resolves fintech's challenges
Vindicia MarketONE can help subscription-based fintech companies meet these evolving challenges and stay ahead of the competition. The flexible platform combines:
Vindicia Subscribe: Scale faster with go-to-market flexibility, payment method flexibility, security and privacy, global implementation support, and industry-leading retention tools.
Vindicia Bundle: Create and join bundles with partners that build audiences, engagement, and loyalty.
Vindicia Connect: Deliver a better experience across devices with seamless onboarding, single sign-on, social login, and granular control of privacy and consent settings.
Bringing these three critical subscription must-haves together delivers faster time to market and a much lower total cost of ownership for fintech companies. Working together, they provide the foundation for subscription innovation and customer relationships that last a lifetime.
To check out how Vindicia MarketONE can help accelerate the growth of your fintech business, read the MarketONE datasheet or contact us today.