July 21, 2021 | Authored by: Jesus Luzardo
How fit is your retention strategy?
Churn prevention tips for fitness brands
The fitness industry has been on a wild ride. In April 2020, foot traffic at gyms plummeted, while consumer interest in at-home fitness products and services peaked.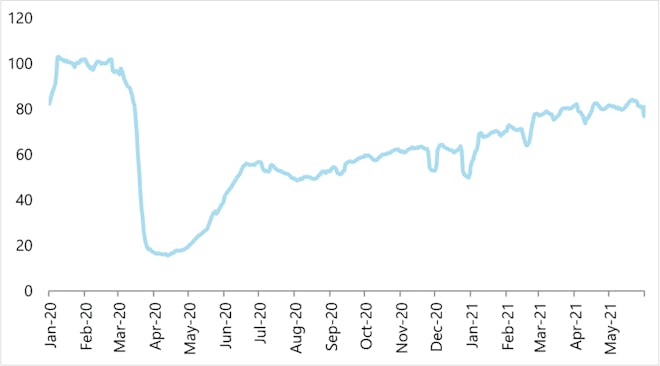 Nationwide Fitness Center Traffic
By May 2021, it went into reverse. Gym attendance was way up, close to pre-pandemic levels, and interest in at-home fitness was on a downward spiral.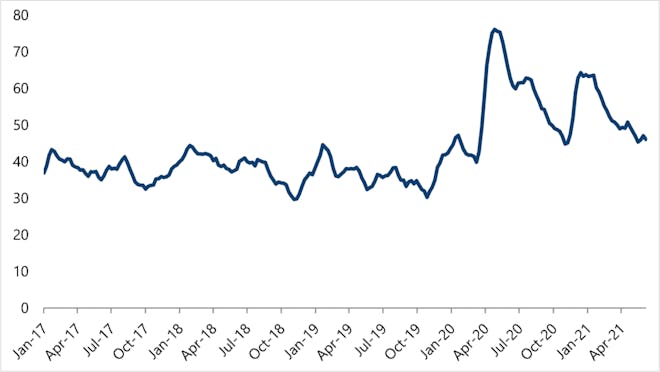 At-Home Fitness Equipment Interest
With all this pendulum-like swinging, brands in the connected fitness and at-home gym industry have got some serious strategizing to do. Peloton, for example, was a big winner during stay-at-home orders, boosting its revenue from sign ups by a massive 172% year-on-year. Now, as people return to their normal fitness routines and local gyms, brands are facing a big question: how to retain those customers and sustain the growth achieved under extraordinary circumstances?
At Vindicia, we've got some ideas.
At home or at the gym?
The answer is somewhere in between. During the pandemic, people clearly had no choice but to workout at home. Hence the natural rise in sales of home fitness products, fitness apps, and exercise subscriptions. But a home workout is not the same as going to the gym. Moving forward, brands will need to find the moderation and balance between in-person experiences and digital experiences, offering customers the best of both worlds, as part of their efforts to boost retention.
Retention = routine
The key to consumer satisfaction in the fitness industry is sustainable workout routines. We all know the feeling: after a few weeks of solid exercise, one late night and you are off the rails. For many people, getting back on the wagon of sustained fitness is a big challenge.
Today, digital fitness brands can answer that call by connecting with customers at crucial moments. For example, if a client misses a weekly workout at the gym, the company can provide the option to make it up with a virtual class. Or a fitness app can partner with a gym chain to offer a bundle combining  gym membership with personal accountability and tracking via the app. This is a great strategy for addressing active churn, giving both brands the opportunity to connect continually with customers and help them sustain their fitness routine, even under extenuating circumstances.
ClassPass, a fitness class booking app, is a great example of a brand that made a timely transformation to hybrid during the pandemic. When users could not book in-person exercise classes, the company arranged on-demand and livestreamed classes, the most popular being their yoga sessions. The results were impressive, with 81% of ClassPass users taking advantage of the digital offering.
Community is key
Despite all the convenience and comfort of working out at home, it turns out that going to the gym is about much more than just keeping fit. Fitness centers are also centers of community, where people socialize, congregate around a common goal, and boost each other's drive and motivation. According to a McKinsey study, "Sweating for the fitness consumer", 50% of respondents said they were less satisfied with their fitness routines during the pandemic than their previous routines.
Even so, that doesn't mean that people will be dropping their digital fitness subscriptions. Rather, over 60% say they want to continue with a hybrid mix after the pandemic is over. Brands should work on optimizing their personal touch, both with in-person experiences and digital experiences that complement and strengthen the user touch points. Vindicia Connect helps brands do just that by personalizing the customer journey, and impacting their entire life of the e-commerce experience. 
Data intelligence: Be steps ahead
There are lots of reasons why people are into fitness: health and wellness, a sense of belonging and community, habits or routine, and "passive" reasons that are usually a reaction to an event, such as getting in shape for an upcoming celebration.
A big part of churn prevention and retention comes from understanding what kind of fitness experiences and services different customers are looking for. And that comes from having access to data about the customer's ongoing activity, behavior, and consumption patterns. Vindicia subscription intelligence is based on 15 years of accumulated data and expertise in analyzing the ways that customers interact with e-commerce brands, and it can help fitness brands identify the patterns and insights to provide better offers and bundles.
Are you feeling the pressure?
In the post-COVID reality, the main mission for connected fitness brands is tackling churn head on and retaining customers gained during the pandemic. Now that gyms have reopened, people are primed for new consumption patterns in fitness products and services. They want a sense of community around their workout goals. All this can be achieved by integrating a hybrid physical/digital consumer experience, and bundling e-commerce offers and subscriptions that bring the best of those two worlds together.
For more information, check out our white paper: Health and wellness: five prescriptions for healthy subscriptions.
Whitepaper
Health and wellness: Five prescriptions for healthy subscriptions
Download
Categories