April 8, 2014 | Authored by: Vindicia Team Blogs
New World of OTT Opportunities: Selling Premium Content with Subscription Billing Services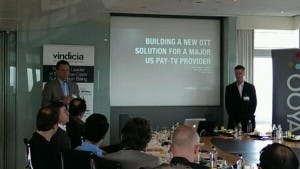 "How do you rise above to achieve your goals?" was a question that resonated with our audience and speakers alike at a recent series of networking events hosted by Ooyala and Vindicia. The answers that came up were simple, but can be easily overlooked.
Focus on creating and sustaining direct-to-consumer relationships. Relationships are critical to sustaining, growing and monetizing business. In the past relationships were largely based on hyper-local, face-to-face interactions, but now they include various types of interactions from multiple global channels. Adrian Drury, Ovum Principal, was straight to the point in saying, "Bring your linear business and your online business together. It's time to act."
Utilize available data to know how to act. Data offers the ability to personalize products and services for individual customers. The power of analytics can improve existing relationships, which extends the average customer lifetime value (ACLV), and indicates where the best possibilities lie for creating new relationships (resulting in a higher acquisition rate).
Be prepared and be agile. Kris Nagel, Senior Vice President at Vindicia, pointed out that the time to market was two years in the 1990s, but now it's only a few months. So you don't have to wait for long to see results. Make sure that multiple "go-to-market" strategies are in play. Be flexible in your offering so that you can react quickly to market demand.
Consider your options for pricing and monetization. Drury pointed out that being dynamic about pricing and monetization strategies is critical and that, "content will be dynamically priced depending on context." It's important to consider the whole customer experience to maximize monetization.
Lastly, do not forget about mobility strategies must be deployed across the mobile spectrum. Jay Fulcher, Ooyala CEO, asked, "Can you effectively reach customers on phones and tablets?" The answer has to be yes as demand continues to increase for content on the go.
Vindicia and Ooyala partner to provide integrated and streamlined billing solutions for premium content. Our solutions help businesses monetize their efforts and maximize their bottom line.  Try our Revenue Uplift Estimator to see how our solutions can increase your revenue by up to 30%.
Whitepaper
Which billing platform is right for B2C subscriptions?
Download
Categories