February 27, 2020 | Authored by: Vindicia Team Blogs
The rise of subscription business models in the auto industry
The subscription revolution is upturning traditional ways of doing business in many established industries. From insurance to pet food, hardly a sector has been left untouched, as startups and established brands alike introduce subscription-based products.
The rising tide of subscription business models is perhaps no more apparent than in the auto industry. Subscription-fueled disruption has created opportunities for new companies to sell car rentals by the hour through an online app, or for dealerships and automakers to remake themselves in a modern image and diversify revenue streams. For example, last week Nissan launched "on-demand driving" through its test of a subscription service model called Nissan Switch, starting at $699 a month.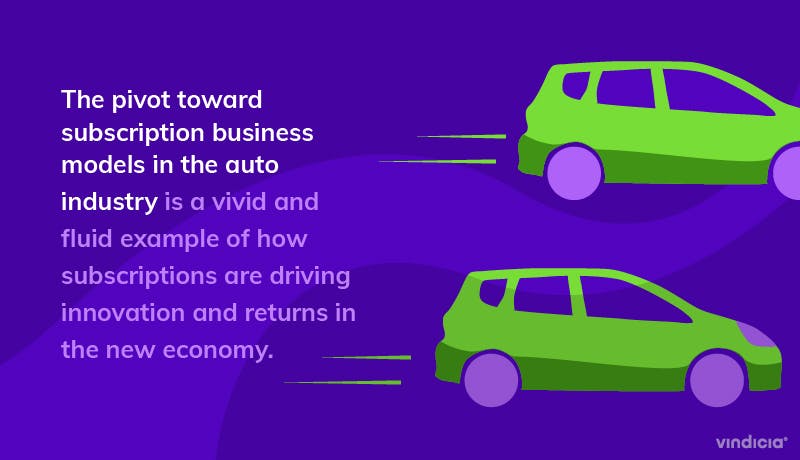 The pivot toward subscription business models in the auto industry is a vivid and fluid example of how subscriptions are driving innovation and returns in the new economy. Here's a look at how we got here and what's likely to come.
The auto was always ripe for subscriptions
When you think about it, subscription business models for buying a car aren't that much different from the leasing model most car owners are familiar with. However, subscription payments and best practices are still a significant departure from the norm that had been established over decades in which the automobile became a defining American industry.
Yet the modern shift toward subscriptions has been in line with other industry innovations, like autonomous vehicles and ride-sharing. A primary driver behind why subscription business models are emerging and flourishing in auto is the fact that consumers are approaching the buying process differently. The preferences of younger generations and the influence of the sharing economy have made loans, large down payments, and long-term leases outdated hallmarks of tradition.
Consumers today crave flexibility not only in how they use a car but also in how they pay for it. While the cost-effectiveness of subscriptions vs. leasing will be unique to each case, a hefty down payment could be a prohibitive obstacle to buying a car. A young family, on the other hand, might not want to be locked into a lease when their needs may change soon. These are all examples of how market and consumer conditions have changed to favor the subscription business model.
"We are seeing a new way of having a car," Volvo President and CEO Håkan Samuelsson have said about the automaker launching its own subscription play, Care by Volvo. "That's why we're offering a flat rate independently of your age or where you live. People living in big cities normally pay a very high insurance fee."
What does a car subscription look like?
While the specifics of subscription offerings will vary from provider to provider, in general, interested consumers can get a car for a fixed amount of time at a flat monthly fee that includes maintenance, roadside assistance, and other services. Some monthly programs cover the cost of taxes, registration, and fees as well. You can have a car for three or six months instead of three or six years.
Many services will allow customers to swap cars or get access to new or iconic models, which is perfect for car lovers or others with dynamic professional and personal needs. Buying these cars outright wouldn't be possible, but with a subscription, drivers can get on-demand access at basic support with the addition of upgrading. It's a pretty attractive deal compared to the prospect of buying a car that later has unforeseen mechanical issues or becomes unsuited to your needs.
Who's offering subscriptions?
It's not just automakers like Nissan and Volvo who are offering subscriptions, as a crop of new businesses has entered the industry built entirely on subscriptions. An example of this emerging class of merchants is Fair, which was profiled by CNBC. The company allows subscribers in 12 states to shop for a car on their smartphones and personalize their payment plans.
"What we're doing is giving mobility without going into debt with a car loan," Founder and CEO Scott Painter told the news outlet.
Other names taking similar approaches include Carma, Flexdrive, and Clutch.
As the industry roils around them, dealerships have also been forced to change and adapt to the wave of subscription business models. As the point of sale for many car buyers, dealerships are natural partners for upstart apps, as well as subscription services offered by the brand name for which the automakers they selling. This may require some serious realignment in how dealerships operate on a basic level, as detailed in an article by the magazine Finance & Industry and Showroom.
Car rental agencies such as Hertz and Enterprise have come to market with subscription-based services. Hertz My Car, for instance, has two tiers and a monthly payment that covers vehicle maintenance, roadside assistance, vehicle damage, and limited liability protection.
As for the original manufacturers themselves, some of the most well-known car brands in the world have jumped headfirst into a subscription. Aside from Nissan and Volvo, some other notable offerings include:
Mercedes-Benz Collection
Access by BMW
Book by Cadillac
Porsche Passport
Canvas  by Ford and Lincoln
Contact Vindicia for subscription expertise
As more auto businesses get into subscriptions, many will face billing challenges as they and consumers get used to new ways of doing things. Whether you're a startup or a traditional company, subscription best practices and expertise are invaluable to success in this new and radically different auto industry.
Need to acquire or upgrade your subscription billing platform? Contact Vindicia today.
Whitepaper
Which billing platform is right for B2C subscriptions?
Download
Categories