July 13, 2020 | Authored by: Vindicia Team Blogs
Subscription businesses and social media: A perfect match
The subscription business model and social media have both defined life in the digital age. Despite some backlash to their policies, social platforms have become de-facto forums for all sorts of personal and professional relationships, while the subscription revolution has impacted industries from consumer staples to life insurance.
These twin disruptors have become increasingly intertwined, with subscription businesses looking to leverage social media to enhance the customer experience and subscription lifecycle.
Social commerce is a growing trend, and there are billions of social media users across the world, creating a wide opportunity for subscription-based businesses to use these networks to increase discovery, purchases, retention, and – most importantly – a sense of community.
Social commerce a major consumer behavior
Social media started as a way for family, friends, and like-minded people to connect. Companies would soon enter the picture, creating profiles to humanize their brands, raise product awareness, engage consumers, and market to buyers with intent. The natural progression has led to social commerce.
What is social commerce? Essentially, it's the practice of consumers using social media to discover, research, buy and give feedback on products and services.
According to eMarketer in 2019, 34% of U.S. consumers have bought something through social media. Of the remaining respondents who hadn't, 27% said they were interested in doing so in the future.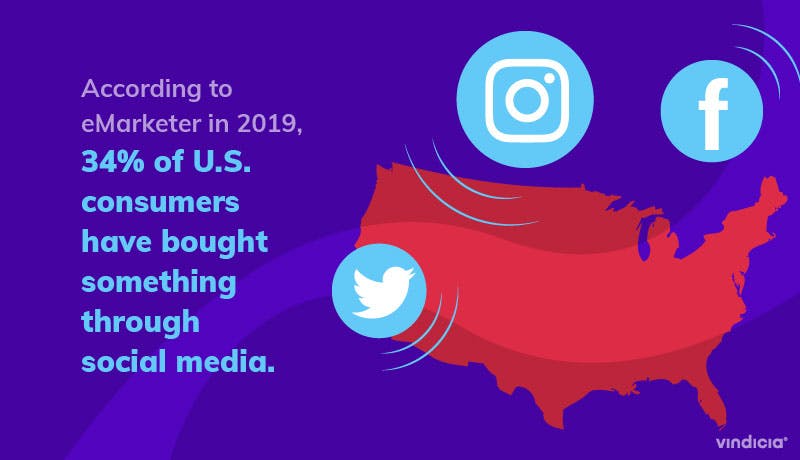 Why does social commerce matter to subscriptions?
The expectations of modern consumers are continually evolving, to the point where two-day shipping and one-click buying have become the baseline. Now, online consumers desire much more than convenience from transactions — they also want some type of social worth or value.
This equates to being able to share buying experiences, product experiences, and real-time experiences. For example, consider the emergence of unboxing videos. These have become a popular category of video wherein consumers (sometimes families) film themselves opening a new collectible, toy, or other product. Followers who then see the video can partake in the excitement, experience the product, and learn how to purchase.
Influencers have also become a social commerce force. Word-of-mouth marketing is the oldest and most powerful channel, and influencer marketing trades on that foundation by using high-profile or respected names to introduce products to followers. Accounts may post content like makeup tutorials or follower polls that help accomplish the same type of experience sharing.
According to one 2019 survey, 42% of Instagram users have made a purchase based on an influencer post.
Subscription-based businesses that capitalize on this opportunity and meet consumer expectations can improve touchpoints across the subscription lifecycle. The social component enables brands to enrich the customer experience from acquisition to retention and throughout the relationship.
Facebook and Google hop on the social commerce trend
An easy way to see how the intersection of subscriptions and social media has grown is in the approach of several leading companies.
For example, Facebook now lets group administrators charge monthly membership fees. This allows group runners to publish exclusive content and videos, offer behind-the-scenes access, push out supporter-only polls and Q&As, and offer discounts and codes for merchandise.
This, in effect, enables subscription-based businesses to monetize not only content but also relationships and experiences. Facebook has also rolled out a subscription feature for fans to connect with influencers, à la Patreon.
Google Stadia, a video game streaming service, follows in the path forged by Twitch by allowing users to live stream their experiences and join in or comment on streams of favorite gamers. It also aims to make the game purchasing experience more streamlined, allowing users to find more relevant content, securely purchase and instantly start playing.
Smaller platforms paved the way
Speaking of Patreon and Twitch, these platforms have contributed much to the rise of social commerce, pioneering fan subscriptions in many ways. Users have an easy way to support their favorite creators and streamers, as well as access exclusive content, experiences, and discounts or offers.
Patreon is a wide-ranging platform that is popular with artists, graphic designers, developers, and all other types of creatives. These individuals can more closely engage with supporters, sell products/services and listen to feedback. Similarly, supporters have a direct line to creators and can make recurring donations. Twitch works in the same way, with streams being able to live cast gameplay and chat with followers.
Other startups have focused on the marriage of subscriptions and social media to cultivate deeper relationships between brands, creators, consumers, and followers. Substack is a hybrid social network and subscription email newsletter, while MeWe is a growing alternative to established social platforms that offers premium services and wide functionality.
How Vindicia can help
Social commerce is an opportunity that subscription businesses can't afford to miss out on. The companies that facilitate sharing or community experiences stand to not only gain customers, but also brand evangelists and loyal subscribers.
The right strategy can help brands enhance the subscription lifecycle in ways that benefit both consumers and businesses.
But before subscription-based organizations can take full advantage, they need a solution with expansive subscription tools designed specifically to meet their go-to-market needs. Vindicia has deep experience in the industry, and our platform can help support subscription operations from acquisition to retention to continued growth and success. Want to learn more? Contact our team today.
Whitepaper
Which billing platform is right for B2C subscriptions?
Download
Categories