Report: Taco Bell serves up a subscription service to keep customers loyal
Oct 14, 2021 | By PYMNTS.com
It all started when Olive Garden pioneered its Never Ending Pasta Pass in 2018. With more than 850 locations nationwide, the Italian restaurant introduced the subscription service to 24,000 guests for $100. At the time of purchase, the first 50 guests could opt-in for a Lifetime Pasta Pass upgrade for an additional $400. The pass sold out.
The program allowed a passholder to dine in at the restaurant and select items from the Never Ending Pasta Bowl menu as many times as they wanted for 9 weeks. While this promotion took place years ago, other restaurants are taking notice now, including Taco Bell, recently launching the Taco Lover's Pass. Once a tool for service or digital-based products such as Netflix, Hulu and Scribd, subscription services are now being introduced into the quick-service restaurant (QSR) sector.

The October Subscription Commerce Tracker® is a data-rich examination of the trend toward subscriptions from the QSR sector and how it can boost revenues and win loyal customers.
Developments From Around the Subscription Space
Subscription commerce sales grew by 41% last year, fueled by consumers who prefer to receive products safely at their own homes, according to eMarketer. Researchers expect sales for subscription commerce to exceed $27 billion by the close of the year. Household, beauty and pet supply products have seen the most significant demand for subscriptions. Online subscriptions have been a convenient and reliable way for many consumers to get supplies, including dog food, treats and cat litter. In 2020, pet supply subscriptions saw a 340% year-over-year increase as nearly 12 million households welcomed pets during the pandemic.
Totaling $430 annually, spending on subscription services has reached record levels, according to a new report from West Monroe. A recent poll of 2,500 consumers asked how much they paid monthly on subscription services, revealing that Americans are spending 15% more compared to 2018. The types of subscriptions have also changed as merchants craft digital platforms to attract customers. Respondents said they spend $273 on subscription services every month, up from $237 three years ago. One fact that became clear to pollsters is most people underestimate how much they spend on these services.
As competition in the grocery store intensifies, many chains are upgrading their loyalty programs by adding subscription services. Last summer, Albertson Cos., the Idaho-based chain which operates stores in 34 states, including Safeway, Shaw's and Star Market, launched FreshPass. This subscription service includes a savings and delivery app. Other grocers have followed or are testing such options, including Kroger, Publix and Giant. These offerings reflect a trend of retailers trying to solidify omnichannel shopper loyalty with membership programs.
For more on these and other subscription commerce news items, download this month's Tracker.

Taco Bell on How Well-Done Restaurant Subscription Programs Can Deliver Growth
Amid adversity brought on by the pandemic, restaurants have experimented with creative approaches to survive. The latest concept restaurants are implementing is the use of subscription services. In September, Taco Bell test-launched the 30-day Taco Lover's Pass, available in its app for select locations through Nov. 24. The 30-day pass costs $5 to $10 depending on the user's location and allows customers to redeem one taco per day. In an interview with PYMNTS, Zipporah Allen, chief digital officer for Taco Bell, explains why the restaurant chain implemented this new service, and how it is accelerating its digital transformation.
Deep Dive: How Consumers' Growing Appetite for Subscription Services Can Help Sustain the Food and Restaurant Industries
One of the biggest impacts of the pandemic has been the explosion of the global subscription eCommerce sector. In less than a decade, subscription business revenue grew by 437%, according to software provider Zuora. By 2025, the market is expected to reach $478 billion, a 68% increase from 2019, according to WiseGuy Research Consultants. New services are popping up all the time, and consumers are biting. Approximately 55% of New York residents reported they would be interested in signing up for a meal subscription service, according to a survey by PropertyNest.
The October Deep Dive explores how the subscription category has gained traction in the restaurant world and how these services could help the QSR sector regain its footing in the industry.
About the Tracker
The Subscription Commerce Tracker®, a PYMNTS and Vindicia collaboration, offers coverage of the most recent news and trends in the subscription ordering ecosystem.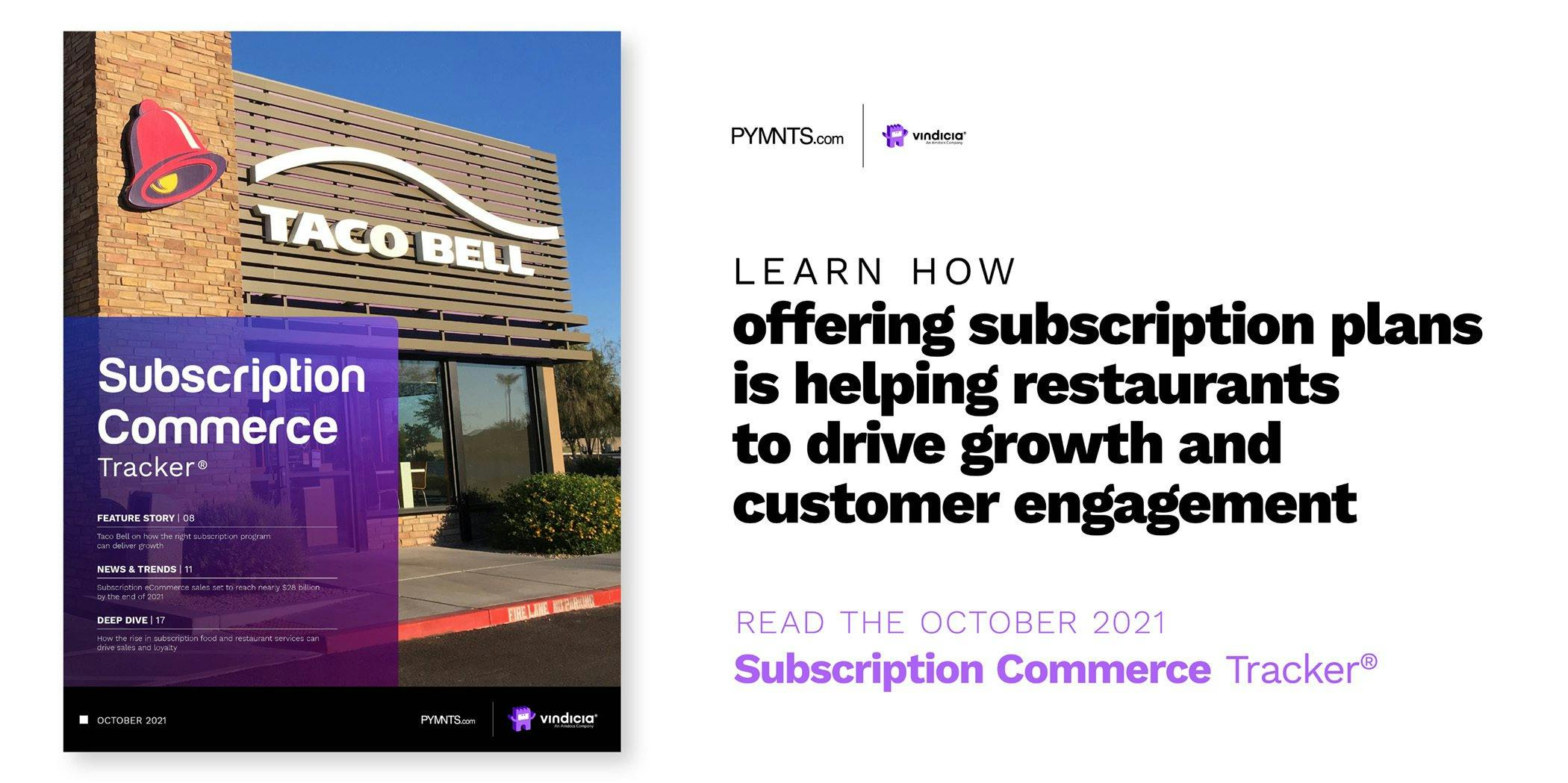 Read complete article