February 12, 2020 | Authored by: Vindicia Team Blogs
5 ways to personalize subscription services for every customer
Until recently, personalization of the customer experience in products and services was largely a nice-to-have feature. While top-performing companies may have always pursued personalization as a best practice, it's now become a minimum for modern businesses — especially subscription-based companies.
Competition in the subscription economy is fierce. If your subscription service — whether you sell beauty boxes or OTT entertainment streaming — doesn't promote the personalization of the customer experience, you're likely losing money, or at least missing opportunities. In a recent survey, Gartner found that brands could risk losing up to 39% of their customers due to poor personalization efforts. This helps underscore the reality that personalization of the customer experience has become the standard for doing business.
Experiences are driving personalization
Experiences are more important than ever to modern consumers. While price point and value are still deciding factors in how consumers spend, they are increasingly giving their dollars to businesses that can meet expectations for experiential elements. Recent research from Eventbrite found that 78% of millennials would choose to spend money on an experience rather than buying something material that they desired.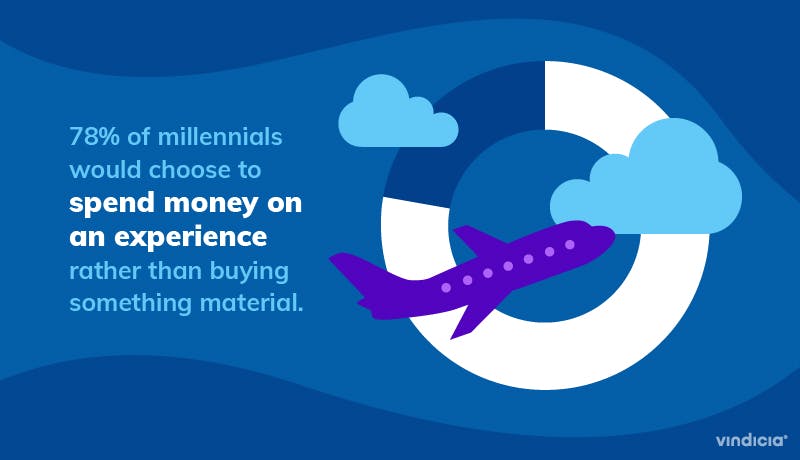 When it comes to doing business, personalization is a defining part of a high-quality customer experience. Research from Epsilon found that of 1,000 consumers ages 18 to 64, 80% of respondents said they are more likely to do business with a company if it offers personalized experiences and 90% said that they find personalization appealing overall.
"It is required for brands to improve customer experiences and remain competitive," said Kevin Mabley, senior vice president of strategy and analytics for Epsilon. "The research findings are further evidence that bringing together customer intelligence and customer experience to drive personalization has a direct impact on a brand's bottom line."
Every subscription business must explore how it can personalize services, as well as what is practically needed to execute on that goal of delivering a personalized, unparalleled customer experience. There is a wide opportunity to personalize a service across each stage of the subscriber lifecycle. Here are five ways to do so:
1. Look at the data
Any effort to personalize services begins with data. There are multiple touchpoints across the subscriber lifecycle, and each interaction creates valuable data that can be used to engineer personalized services. Everything that you need to know about a customer for purposes of personalization is held within the data they create.
Consider OTT entertainment streaming platforms and the recommendations they serve customers. Their recommended content is carefully calculated with data the user-generated through their use of the service. Usage rates and patterns that are unearthed through data mining can help inform personalization.
Data analysis is important on both an individual and customer segment level. Leveraging an individual's data to personalize services uniquely to them has clear value, but aggregating and examining such data across larger customer groups and subgroups can help you develop customer or buyer personas. These profiles can be used to identify likely expectations for personalization in new acquisitions, as well as existing customers.
2. Engage customers through outreach and personalized marketing
Customers want to hear from brands they trust and give their business to — however, and this is a big "however" — that communication needs to take place on their terms. Companies need to be careful to find the right balance in messaging between bombardment and true engagement.
To effectively personalize marketing, you have to use the channels of communication that are most preferred by and relevant to customers. Once again, these patterns will come through in the data created throughout the subscriber relationship. In 2019 research from Evergage, a customer data platform vendor, marketers ranked the best channels for personalization:
Email (78%)
Website (58%)
In-person (42%)
Online advertising (35%)
Mobile app (28%)
Web app (19%)
If the data shows a customer using a particular channel more than others, that's a surefire sign of which personalization route to take.
3. Anticipate needs or wants
Increasingly, businesses are expected to know what the customer wants before he or she does. That's certainly a tall task, but predictive analytics, subscription intelligence, and other tools have allowed companies to get ahead of the game. If pulled off right, a relevant offer, outreach or other interaction can make a memorable impact on the customer experience.
Data will hold the answers here, as ever, because it's going to take a lot of intel to anticipate needs or wants, or at least be hyper-responsive to them. Examine both individual sources of intelligence, such as purchase history and usage rates, and aggregate sources like the geographic market or customer segment. Hopefully, by pulling in enough signals, you'll be better able to glean intent.
For example, if a customer makes a repeated purchase, you can use that to craft a personalized discount and deliver it before the next expected one. While that's an ideal case and difficult to pull off, there are other ways to meet customer needs without their explicit prompting, like sending emails or other outreach messages.
4. Curate content/products
Tailored solutions are becoming the norm in the subscription industry, like boxes sent every month with custom-fit clothes or a custom-made fragrance. There is always room to innovate in products and services so that they can be more personalized, especially in the subscription landscape.
Sometimes, it's easier to think of curation as bundling, the traditional strategy of combining products that consumers want and often buy together — the telecom triple-play bundle of phone, Internet, and cable is one classic example. If customer data indicate they might like a particular product or service given their purchase history or intent, it's an easy opportunity for subscription companies to package the products, upgrade the experience and personalize the effort.
5. Focus on the web and app experience
Customers want to feel involved and heard. The best way to do that is to offer them self-service tools that result in users completing some of the legwork needed to personalize services. Having a consistent customer experience across web and mobile app sessions is important to upholding the promise of personalization, yet can result in costly gaps if unattended.
Leverage Vindicia in personalization
Personalization and creating customer experiences is the name of the game. If you don't do it, some other company will. That means, at a fundamental level, having the requisite tools and solutions to meaningfully personalize your service and customer experience.
When you work with Vindicia, you can be assured you have a formidable subscription billing and management solution, deep data insight, and industry expertise to drive personalization, amazing customer experiences, and ultimately subscription success. Contact us today for more information.
Whitepaper
Which billing platform is right for B2C subscriptions?
Download
Categories