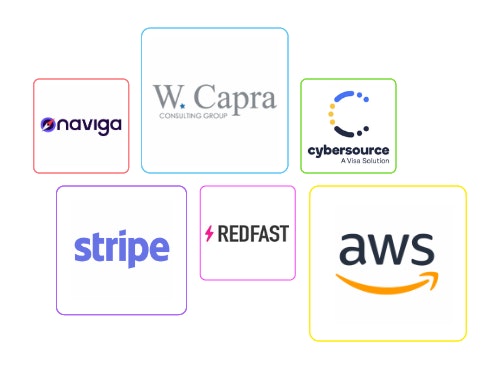 Win with the strongest partners across the subscription lifecycle
Our global network of technology partners will help your business succeed in the subscription-based economy. From payment methods and payment service providers to accounting and marketing automation, our best-of-breed partners will help you leverage proven solution integrations that deliver unmatched subscriber acquisition and retention results.
Payment Experts/ Consultants

Consultant specializing in recurring Card Not Present (CNP) business models, for merchants to increase revenue while lowering card processing costs.
View plan

Information Technology and Management consulting company.
View plan
Payment Service Providers
Analytics/ Business Intelligence

Mather Economics is a global consulting firm that applies a combination of proprietary analytical tools and hands-on expertise to help businesses better understand customers and in turn, develop and implement pricing strategies that maximize operating margins, grow revenue and improve customer loyalty.
View plan
Vertical-specific

Accedo is the market leading enabler of TV application solutions. Accedo provides applications, tools and services to media companies, consumer electronics and TV operators globally, to help them deliver the next-generation TV experience.
View plan
The Naviga content engagement platform combines the best thinking in content and commerce management to help businesses deliver the right information, amplify the message and generate new revenue in a rapidly shifting market. Read the Vindicia-Naviga solution data sheet.
View plan
Tax and Finance

Sales Tax Management Services. Integration into major accounting, ERP and e-commerce software. Automatic calculation, certificate management, filing and remittance of sales tax.
View plan

Corporate tax solutions, software, and consulting.
View plan

The Softrax automated revenue recognition software is integrated with Vindicia Subscribe, providing world-class automated support for even the most complex revenue recognition requirements for subscription-based companies. Read the Data Sheet.
View plan
Infrastructure

Amazon Web Services (AWS) is a secure cloud services platform, offering compute power, database storage, content delivery and other functionality to help businesses scale and grow. Read the case study.
View plan
Retention

Redfast is an end-to-end SaaS software solution with integrated data collection, analysis, and native presentation for iOS, Android, Apple TV, Fire TV, Roku, Desktop and Mobile Web. It allows growth, marketing, content, and product teams to be nimble and responsive to the changing needs of the business without increasing the burden on technology teams. Read the Vindicia-Redfast solution datasheet.
View plan
Become a Vindicia Partner
Let's start a friendship for the long-term.
Become a partner