February 20, 2018 | Authored by: Michael Isaacs
Digital payments and diversification for publishers: What are the barriers to successful digital transformation?
This is the third blog in a series examining findings from our research report, Digital Payments and Diversification: Where Next for European Publishers? published with consultancy MTM. Earlier blogs have considered why paid-for digital content priorities must be reset and explored the new digital models being adopted by publishers. In this blog, we delve into the barriers and challenges publishers face when pursuing paid-for digital content options.
Charging for digital content is recognized to be challenging, not least because of the widespread availability of free content. This was cited as a challenge by a huge 91 percent of the publishers we surveyed. A considerable majority (70 percent) also believe that the user experience and value propositions have been poor quality and, as a result, have impeded the growth of digital content sales.
How do people consume content online?
Content should be optimized for each intended channel. Instead, print content is too often repurposed for digital. 74 percent of executives in our survey felt that this approach has impeded growth in this area. Simple redistribution doesn't constitute a digital strategy; instead a digital approach and mindset is needed to create content optimized for digital channels. As one UK newspaper publisher suggests: "They completely overlook the most important question, which is: how do people consume content online?"
The content or service is, of course, central to the success of digital as a channel, but so too is the experience. Publishers need to make it their business to know when, where and how customers are consuming online content and services and what the experience looks like. Without platform investment and the right levels of quality assurance and testing, the digital channel could let the brand down.
What is hindering successful transformation?
Our study highlighted three top areas where many publishing executives recognize they often lack the resources to succeed.
Absent digital skills. For some publishers, adopting new digital models and diversifying into a range of additional paid-for digital products and services, presents multiple challenges. High on the list is a lack of relevant skills and capabilities. In our survey, a compelling 69 percent of industry participants see this as a key organizational challenge facing publishers.
Under-investment in technology platforms. A whopping 49 percent of respondents cited under-investment in technology platforms and related in-house capabilities as limiting their ability to successfully develop new digital products and services. As with all content or services provided digitally, the right level of investment is required in underpinning technology for the venture to succeed.
Lack of analytics expertise. Similarly, 51 percent of respondents recognize the challenge of insight and analytics. It is important not only for data to be generated, captured and effectively analyzed, but also to have a clear understanding of the value of the information to each part of the business. While publishers may be adept at capturing and interpreting traffic level data, this knowledge may not usefully inform the development of other paid-for products and services when, as one publisher told us, it's necessary to, "think more like a retailer."
What are the key organizational challenges facing publishers developing paid-for offerings?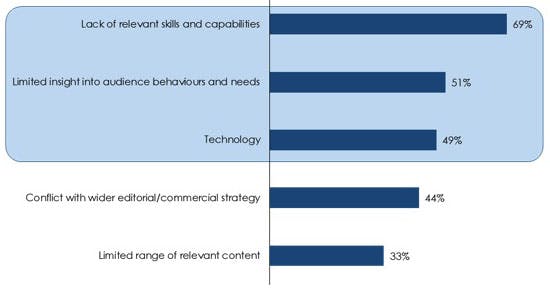 Proportion of respondents who responded 4 = Important challenge or 5 = Very important challenge (n = 47)
In our final blog of the series we will take a look at the way ahead for paid-for digital content. If you'd like to dig into the topic before then, simply access our research report, Digital Payments and Diversification: Where Next for European Publishers? or watch as I present the interim results at the FIPP Digital Innovator's Summit in Berlin.
Also, make sure to attend our live webinar on February 27, 2018 at 5:30 am PST (1:30 pm GMT) where I will be joined by Jon Watts, Founding Director, MTM London, as we discuss the full report.
Whitepaper
Which billing platform is right for B2C subscriptions?
Download
Categories