November 30, 2022 | Authored by: Rubi Cohen
How Instagram is shaping a new era of DTS (direct-to-subscriber) commerce
Last January, Instagram launched a never-before-seen feature: Instagram Subscriptions, enabling content creators to monetize their Instagram page by offering paid subscriptions to followers.
Now, the feature is rolling out to all eligible US-based Instagrammers.
These days, it seems that everywhere you turn, you'll find another kind of subscription.
Influencers become subscriptions
The earliest days of social media were ad free. But eventually, monetization kicked in. Today, there is no escaping the ads and promotions.
Now, a new dawn in social media monetization is beginning. Influencers can turn their Insta page into a paid subscription – in essence, monetizing themselves. They believe so strongly in the value of the content they provide to their followers, they charge a monthly fee to access it.
If people can turn themselves into subscriptions, what does that mean for businesses and brands?
From DTC to DTS
Whether we know it yet or not, we are entering a new age of consumerism. Beyond "direct to consumer", there is "direct to subscriber."
Whether a physical or digital product, the DTS relationship connects the subscriber directly and instantly with the provider. Monthly renewals give subscribers continual access; at the same time, supporting an ongoing stream of recurring income to the subscription provider.
Ultimately DTS means constant engagement, reduced friction, and long-term retention – staying seamlessly connected with customers or followers.
Everyone loves access
The beauty of subscriptions is that they provide consumers with ongoing access to the products, services, or content that they love.
At the same time, 92% of consumers trust influencers over ads.
Now combine the level of trust that influencers inspire, with the exclusive access of a subscription – that's powerful stuff.
Imagine a fitness influencer, with a loyal following of enthusiasts who enjoy her advice, tips and demos of different exercise moves. Via Instagram Subscriptions, that influencer can create exclusive content only available to subscribers, such as live videos or insider tips. There is a group chat feature for subscribers only, as well as subscriber badges and other engaging features. All this is built into the platform, and all the influencer needs to do is create the subscription and start earning recurring income from subscribers who love and trust the content they provide and are willing to pay in return for special access.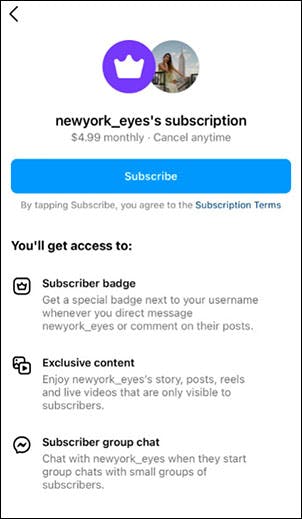 The best subscriptions are direct and seamless
From Instagram Shopping to Instagram Subscriptions, the world's fifth largest social media network is now embarking on a DTS strategy.
Becoming a subscription company is the first step of a momentous journey. For any company turning to the subscription model, the next challenge is making those subscriptions seamless, removing unnecessary friction, and preventing failed transactions that lead to churn and the loss of trust from your subscribers.
If Instagram recognizes the value of offering a recurring content relationship on its platform, then what does it mean for brands that are exploring new, long-term and profitable revenue streams?
Whitepaper
How to retain subscribers in today's post-pandemic environment
Download
Categories