January 14, 2020 | Authored by: Vindicia Team Blogs
How to prepare your subscription business to go global
One of the many benefits of a subscription business model, especially for consumer-facing services, is that companies don't need to feel confined to particular regions. Even the most modest subscription-based business can have an international footprint.
Global expansion is very much in play for subscription businesses as demand for these types of services continues to grow in different international markets. For instance, an international consumer research study conducted by MTM on behalf of Vindicia found that consumer appetite for over-the-top media services was strong in four major global regions (Western Europe, Asia Pacific, Latin America, and the U.S.). While these trends were in part driven by local players and global media leaders like Disney and Netflix, there is plenty of room for smaller service providers to fill niche roles.
Of course, that doesn't mean it will necessarily be easy. There are several logistical challenges and considerations that subscription businesses need to address to successfully make the leap into global service delivery. Here's what you need to know before taking the plunge with your subscription business into international waters.
Address payment options
The most immediate concern that any subscription business considering global expansion needs to address is giving new international customers a way to pay for services. That means setting up a billing and payment platform that supports the preferred currency in your target market.
Forcing customers to pay for services using a currency other than their own – asking French users to pay for their subscriptions in U.S. dollars, for instance – will create unnecessary friction. Fees applied by banks and financial institutions to process such payments could inflate the total cost of your services, especially compared with local service providers.
According to Multichannel Merchant, one-quarter of global consumers will abandon a transaction if the service provider doesn't offer their local currency. If customers must pay extra to convert currency or process international payments, they may just look for a local option instead.
There's no reason to limit yourself to selling to a few countries. Finding a subscription billing platform that supports all of the leading global currencies, including the U.S. Dollar, Euro, British Pound, and Japanese Yen, will put your subscription business in a strong position to further expand operations in the future.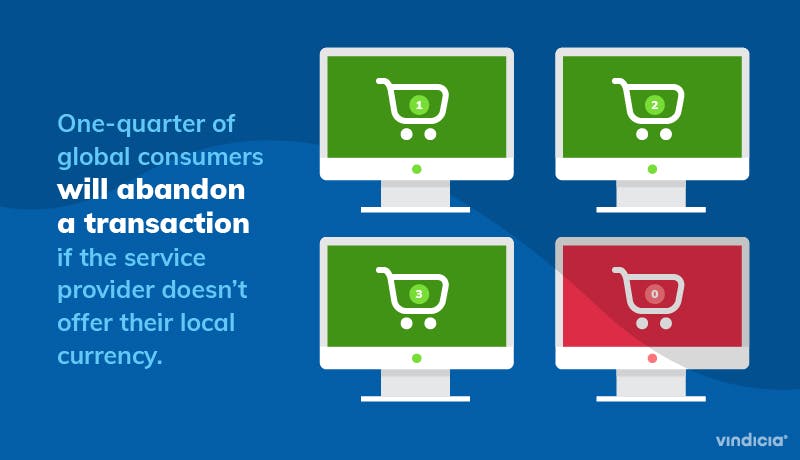 Support preferred forms of payment
Currency is just one facet of payment options that subscription businesses need to account for when going global. Payment methods are just as critical a consideration when attempting to sell to audiences in different international markets.
Depending on the region you plan to target, preferred payment formats could vary drastically:
North America: Credit and debit cards are extremely popular forms of payment in the U.S. and Canada, as well as PayPal, Apple Pay, Google Pay, Amazon Pay, and more.
Europe: Consumers' payment forms of choice can vary from country to country in Europe, but debit cards, direct debit, and local payment methods such as iDeal transactions are typically more common in EU nations than in the U.S.
Asia Pacific: Various payment platforms are popular throughout the region, with mobile payment applications gaining steam in recent years, as well as the use of wallet-based payment methods and cash.
Latin America: Debit cards have relatively low penetration in the region, while credit cards and cash-based options like Brazil's Boleto Bancario remain popular.
Don't forget sales tax
Regional sales tax can be a huge headache for expanding subscription businesses, forcing companies to calculate the applicable tax on various bundles and services in different markets. Implementing a billing and payment platform capable of automatically calculating taxes with complete accuracy reduces the burden of trying to keep up with rapidly changing tax codes in different countries and regions, making it easier to start selling in new international markets.
Understand local regulations
Every country – and in some cases, states or provinces – has its own set of regulations dictating how consumer businesses can operate. Those guidelines can extend to any number of logistical aspects, but data collection and management is arguably the most pressing concern today.
The EU's Global Data Protection Regulation (GDPR) was a landmark development when it went into effect in 2018, completely altering how businesses could process consumer data in the region. GDPR puts tighter limits on what is permissible when collecting, storing, or managing customer information. Several international governments have already begun to draw inspiration from GDPR, developing data regulations of their own to protect their citizens' data.
And now the state of California is among the first to pass legislation on the heels of GDPR, with the California Consumer Privacy Act (CCPA) sharing many similarities with the EU's landmark regulation. CCPA went into effect on January 1, 2020, with enforcement beginning on July 1, 2020.
Implementing a subscription billing solution that is compliant with GDPR and CCPA will help ease privacy compliance concerns for your recurring revenue business.
Prevent payment fraud
Subscription businesses need to remain vigilant in preventing payment fraud to protect their revenue and their bottom line. Because different payment methods are more popular in different markets, different types of payment fraud are more common in some regions than others. For instance, prepaid card fraud is fairly common in the U.S., whereas it may be less of a concern in the EU where prepaid credit cards aren't as popular.
Subscription businesses need to educate themselves on payment fraud activity in various regions and implement safeguards to protect against it. Take, for example, Europe's SEPA Direct Debit platform, which is commonly used across the EU. SEPA DD gives users the ability to have a dispute automatically honored if raised within 8 weeks of the payment. These payments can also be disputed for a period of 13 months from the payment should the customer feel the transaction was unauthorized. These processes could be abused by fraudsters at the expense of subscription businesses. Without the right fraud-prevention protections in place and the ability to track previous chargebacks, a company could be buried in chargebacks that siphon away potential revenue.
Working with a subscription billing partner that has extensive experience in different international markets can help businesses not only recognize the fraudulent activity but also establish strong protections within their billing platforms.
Find the right billing partner to grow your subscription business
Subscription businesses will likely run into several logistical questions and concerns as they plan their expansion across the globe. That's when it pays to have a billing expert in your corner who deeply understands the nuances of subscription billing in every major international market.
Vindicia has years of experience deploying subscription billing solutions designed for global use or specific regions: We have seen and done it all. Partnering with Vindicia gives subscription businesses the benefit of expert support and guidance as they expand into global markets.
Have questions about subscription billing? We're happy to help. Reach out to our team today.
Whitepaper
Which billing platform is right for B2C subscriptions?
Download
Categories