July 23, 2015 | Authored by: Vindicia Team Blogs
Recurring Consumer Engagement
There's a lot of buzz around the term "Subscription Economy" for good reasons, but to be more accurate, I call it "Recurring Consumer Engagement". I cannot remember the last time I bought a CD, DVD, hailed a Cab or bought a magazine. I originally thought of these business models as a "Rentership" mentality, but that's not accurate either. I'm happy to own certain tangible things like my home or car but other services I consume on a recurring basis and need a very different engagement between me, the consumer and the provider. I want a more simplified consumption model that is optimized and frictionless. I don't "subscribe" to my cell phone, utilities, insurance, Airbnb or Uber. These are simply "recurring" purchases that I want over & over on my timeframe, as I consume them. I think of the term 'subscription' as a static fixed schedule and fixed amount. Recurring is far more accurate but must include the notion of consumer engagement to help merchant fine-tune their offers over time.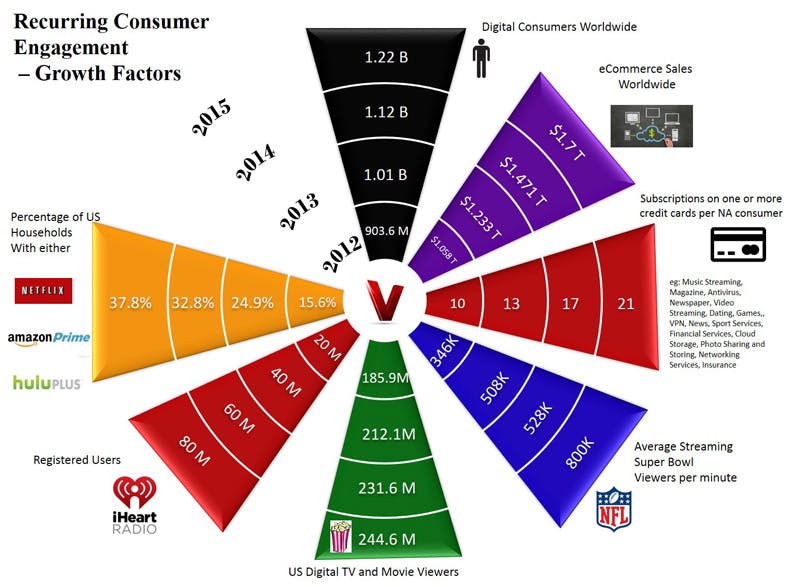 Businesses are getting much better at offering enhanced customer experience through new offering models. I'm OK with upsells that I opt into for incremental add-on or cross-selling. I'm also OK with various loyalty programs and targeted marketing through transaction-based activity.
I bet we all underestimate the number of recurring charges that hit our credit or debit card. You'll quickly learn how many accounts need updating once you report a card lost or stolen. It's a good thing that Vindicia merchants get the benefit account updater and other retention services provided by Vindicia to save the consumer a lot of hassle.
It's NOT a shift in consumers' spending habits, it's just the fact that some goods are repackaged as services to be consumed on a recurring basis. When I had two young daughters at home, they'd watch the Little Mermaid DVD about 200 times, so I got my $19.95 worth. But now, they only watch something once, so it really depends on the service. Why do you buy a Drill? Because you need a hole. Well, how many holes? And how often? I own a cordless drill, I use it often. But there are lots of other tools I'd use once in a while, thus renting makes more sense. I own 3 bikes and 2 surfboards but I still rent because it's a hassle to bring them on vacation. It's all situational. But my computer software is almost all bought on some recurring basis. I'm waiting for a workable online grocery that accurately reflects my "rotating menu of meal plans" in which weekly price ensures a regular delivery.
I expect more bundled recurring purchases to make life more efficient with improved production decisions tied to recurring orders. Confidence about future revenue streams would also make investment decisions by industry comparatively more certain, another positive.
I put together some independent data on the size of the "Recurring Consumer Engagement". Take a look, Cheers!
Whitepaper
Which billing platform is right for B2C subscriptions?
Download
Categories