September 23, 2022 | Authored by: Ioana Dayagi Stamate
Vindicia now lets consumers pay for subscriptions using Venmo
Venmo's 90 million active users have proven that consumers love using the convenient peer-to-peer payment method for handling transactions with friends, individuals, and businesses. Tasks like paying your barber and tipping staff are made easier. People on both sides of the transaction prefer to use this reliable, secure payment method. If consumers could pay for everything with instant, peer-to-peer payments, they would. PYMNTS discovers that 52-64% of millennials, bridge millennials, and generation Z—the demographics with growing majority purchasing power—would choose to use instant payments if they could.
Subscription businesses are catching on to this, noting the importance of offering a variety of payment methods to assist potential consumers with making purchases. The latest trend? Paying for subscriptions using Venmo. Vindicia has designed something new to enable just that for all subscription businesses, making the purchasing flow as simple as possible, while equipping businesses with a single source of billing truth that simplifies accounting in a whole new way.
Vindicia connects Venmo transactions with the wider billing system
Vindicia now incorporates the Venmo peer-to-peer payment method into its list of 90 and counting payment methods, offering Venmo to all subscription merchants and users as part of Vindicia's subscription management platform. With this integration, subscription-based businesses can bill subscribers through Venmo, and in turn, subscribers can pay for subscriptions or one-time purchases using their personal Venmo accounts. Using Vindicia, subscription-based businesses can now reach more customers who prefer to pay using Venmo.
For businesses, being able to connect Venmo transactions with the wider Vindicia billing system means that accounting (e.g., revenue collection, revenue recognition, revenue reconciliation) is streamlined and simplified. Being able to collect, recognize, and reconcile revenue enables businesses to grow revenue and profits more effectively.
Additionally, each transaction contains a unique Venmo identifier that provides a short description of the Venmo username. A subscription business can use this source description to attribute the transaction to a particular Venmo user. This means that purchases are linked to the exact customer who paid, making retention and outbound nurturing efforts as easy as can be. Attract, acquire, and retain more subscribers.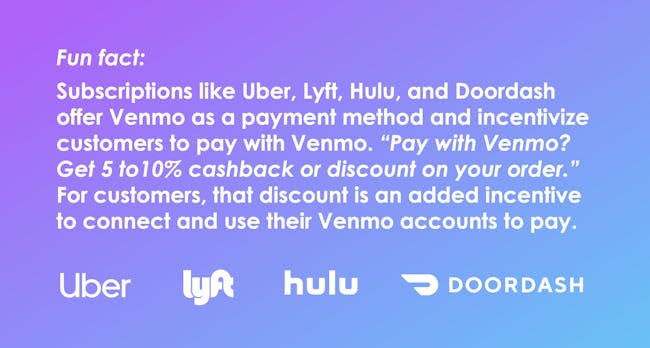 We integrated Venmo into our solution after noticing the rising popularity and prevalence of instant payment networks. Consumers increasingly want to use their personal payment methods like Venmo, Chime, Google Pay, and Apple Pay. The nature of these payment methods is akin to paying with a debit card. For Venmo, the "Venmo Balance" feature essentially serves as a checking account tied to one's debit card. This enables consumers to extract, use, and transfer existing funds to pay for items. Combined with Venmo's app-based availability, social media-driven user adoption, and instantaneous transfer and transacting functions, Venmo is one of the most user-friendly options for transacting with both individuals and businesses.  
Venmo financially empowers consumers and businesses
Why has this winning combination of Venmo features garnered such a high volume of Venmo users? These days, consumers want payments to be as instant as possible. People want to see what their balances are and want to transfer funds between accounts without fees. Consumers in 2022, now more than ever, are aware of instant payments. PYMNTS found that 50% of consumers are more aware of their capability to deposit, withdraw, and deposit money. They also found that 46% would prefer to use instant payments over other payment methods.
In terms of subscription e-commerce, consumers today want the ability to use their existing funds and connect those funds with their bank accounts when needed. Venmo's option to transfer a consumer's Venmo Balance to their personal banking account without fees is a huge perk. 90 million users and 2 million merchants around the world use Venmo—compared to 60 million who use Zelle for personal and retail transactions combined. 66% of consumers want to continue doing business with venders that offer free instant payments. In comparison, only about 34% and 39% would transact with a business that accepts checks only, credit card payments, direct deposits, and all other options excluding instant payments.
By offering Venmo, Vindicia enables subscription customers to instantly pay for subscriptions with funds they already have and get the special incentives associated with paying through Venmo. Request a demo to find out how the Vindicia subscription management platform can help your subscription business attract, acquire, and retain more subscribers.
Whitepaper
5 indicators that it's time to replace your subscription billing system
Download
Categories