September 12, 2018 | Authored by: Vindicia Team Blogs
What are the prospects for premium OTT services across the globe?
Netflix, Amazon, and Hulu have proven that over-the-top (OTT) content is not just the future of entertainment—it is the present. But what types of premium OTT offerings will have the most potential going forward? What is the likely impact of direct-to-consumer OTT offerings from the likes of Disney? How are local broadcasters, pay-TV providers, and telcos responding? And what are the driving forces for OTT subscription growth—not just in the United States, but around the world?
To help answer these questions, Vindicia commissioned research consultancy MTM to explore the development of premium OTT services across four global regions: Western Europe, USA, Latin America, and Asia Pacific. The results are now available in an in-depth research report entitled The Prospects for Premium OTT: Industry Perspectives on the Evolution of the Global Market.
This actionable report concludes that premium OTT remains poised for rapid growth around the world, dominated by organizations that embrace innovative approaches to digital video. Findings include:
Premium OTT services will grow at an average CAGR of 9.7% by 2020 in the ten countries surveyed
Local, niche, and direct-to-consumer providers will succeed in securing market share against Netflix, Amazon, and Hulu
Connectivity and frictionless payment solutions are key to subscriber acquisition and retention
As consumers across the globe move away from traditional cable TV to premium OTT content, companies are under pressure like never before to keep up with demand and deliver video content to multiple devices.
For content providers, premium OTT is an attractive option because it presents tremendous opportunities. The transition to OTT video content opens up a whole new world to sell premium video content and media, and to do so in a way that increases revenue over time by leveraging an increased understanding of the consumer's video consumption habits.
Opportunities for specialist or niche premium offerings are also becoming far more accessible, especially to providers with cost-effective access to unique, high-quality video content and a clearly defined, addressable customer base.
Some may question the ability of niche OTT providers to compete with generalist services like Netflix and Amazon. But specialist premium service providers, with the right mix of content, technology, and marketing, are proving that they are able to attract a significant number of subscribers and grow their services internationally.
The MTM report answers many of the most critical questions surrounding premium OTT and provides unique insights into the future of the market. Download the complimentary report here. We hope that you find the results both informative and actionable.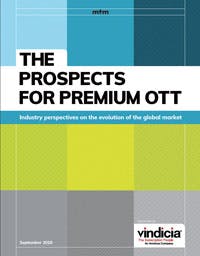 Whitepaper
Which billing platform is right for B2C subscriptions?
Download
Categories