BloomsyBox turns flower subscriptions into an essential consumer purchase
Sep 25, 2022 | By PYMNTS.com
With inflation on the rise, 85% of consumers are concerned or very concerned about their budgets. With the prospect of rising costs continuing well into next year, many consumers are limiting their spend on nonessential items. Overall, 46% of consumers say they are making fewer nonessential purchases, and a striking 11% of American adults reported having eliminated all nonessential purchases.
With consumers having to make tough purchasing decisions, subscriptions are in the firing line. This is bad news for subscription merchants that provide nonessential goods and services. Consumers spend a lot on these types of subscriptions, and there are signs that they are beginning to cancel in droves. The average consumer spends $273 per month on subscription services, up from $237 in 2018. Approximately 800,000 United Kingdom-based Netflix and Amazon Prime subscribers canceled their memberships between April and June 2022.
This edition of the "Subscription Commerce Tracker®" examines the recent macroeconomic trends influencing how consumers approach nonessential subscriptions and how subscription providers can take steps to avoid being cut.

Around the Subscription Commerce Space
If economic conditions were not placing enough strain on subscription merchants already, competition is ratcheting up as more companies enter the subscription space or expand their already existing footprints. The NFL, for example, recently unveiled a yet-to-be-named product offering that, for $5 a month, provides subscribers with live game access via mobile devices. The subscription service also includes out-of-market preseason games and other digital content. In a testament to how cluttered the subscription space is, the NFL already has two other subscription-based product offerings, including NFL+ and NFL+ Premium.
For more on this and other stories, including a new subscription product bundling news, weather and travel information, visit the Tracker's Companies To Watch section.
BloomsyBox on Navigating Economic Uncertainty With Payments and Cancellation Flexibility
At a time when consumers are feeling the economic strain, subscription merchants are too.
"If someone tells you that they haven't been affected by this, I don't know if they're living in the same reality as everybody else," said Juan Palacio, CEO of BloomsyBox. In a recent PYMNTS interview, he explained how BloomsyBox is responding to the worsening economic conditions by making its payments and cancellation policies more flexible.
To learn more about BloomsyBox's approach to customer retention and its thoughts on the future of subscription commerce, read the Tracker's Insider POV section.
Payment Experience Is Key for Subscription Retention
With consumers looking to cut costs at every corner, subscription providers must focus on customer retention. One powerful tool in a merchant's arsenal is a streamlined payment process. According to PYMNTS data, there is a strong preference for making payments via digital channels, and more than 4 in 10 consumers cite ease and convenience as the most important reasons for choosing digital payment channels.
For many, the current digital payment experience is leaving much to be desired. Consumers report a range of difficulties in making online payments, listing the inability to split payments with multiple people, a lack of options for paying bills and few instant payments options as some of the top challenges. Subscription providers that address these issues can improve customer retention. As many as 40% of consumers are interested in using service providers that offer an improved billing experience, with 23% willing to pay an extra fee for it.
To learn more about how subscription merchants can leverage the payments experience to drive customer retention, read the Tracker's PYMNTS Intelligence section.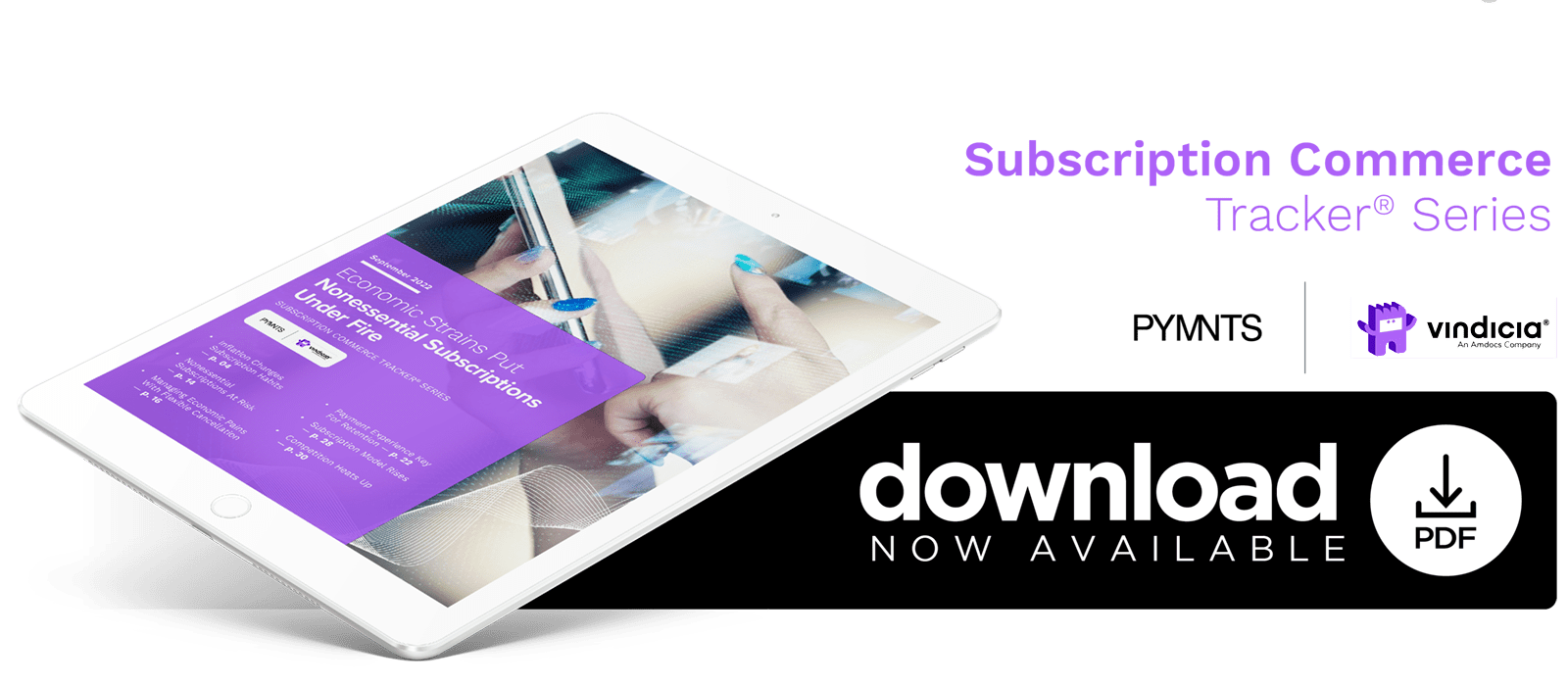 About the Tracker
The "Subscription Commerce Tracker®," a collaboration with Vindicia, explores how worsening economic conditions are causing consumers to limit their unnecessary spending, what this means for subscription merchants and how they can retain customers in this uncertain environment.
Read complete article