Flexibility needed to keep streaming video subscribers locked in
Aug 9, 2021 | By PYMNTS.com
Video streaming services are coming off their most profitable times as Americans entertained themselves at home during the pandemic. But as theaters and venues reopen, the return to normal is underway. While most Americans welcome the new reality, the streaming video sector may not. Now comes the challenge for these video streaming providers to prove to investors they can continue to add subscribers when the nation is free to get entertainment outside of the house. To counter cancellations, companies must be ready to offer smooth onboarding processes, a variety of payment methods, pause features and tiered pricing options.
The August Subscription CommerceTracker® is a data-rich examination of why it is important to offer a variety of payment options in many currencies, how the sector must offer flexibility in how consumers access subscriptions and to consistently keep up with changing customer demands to maintain retention.

Developments from subscription universe
The paid TV sector in North America is in decline, but revenues remain higher than online video subscriptions. At the close of 2020, the number of cable TV and satellite subscribers fell to 61 percent in the U.S. and 69 percent in Canada as viewers moved to online services. That's in contrast to a more than 80 percent saturation rate for paid TV four years ago in both countries. Last year, there were 298 million subscription video on demand subscriptions in North America, up 35 percent from 2019. Paid TV subscriptions, meanwhile, fell by 7 percent.
It is expected to take three years for the media and entertainment sector to rebound to 2019 sales levels due to the impact of the pandemic, according to a new survey. The Global Entertainment & Media Outlook reported a nearly 4 percent dive in global industry revenue to $2 trillion last year, the biggest one-year drop in the sector's history. Researchers predicted subscription video on demand revenue will bounce back by 6.5 percent this year as nations emerge from lockdown. By 2026, experts predict an annual growth rate of 5 percent with revenues expected to reach $2.6 trillion.
For a decade, Netflix was unstoppable. But consumers' appetite for streaming video content began to slow in the first half of 2021. In a first quarter earnings call with reporters, CEO Reed Hastings said things got "wobbly" as the video content platform missed its modest subscriber estimates. Disney+ was just as shaky as the entertainment division of the Walt Disney Co. also missed Wall Street expectations. Instead of enrolling 110 million new subscribers projected for the end of the last quarter, Disney counted 104 million. Analysts cited three pandemic-driven theories for the skid: the subscriber pull-forward, content squeeze and the reopening.
For more on these and other subscription commerce news items, download this month's Tracker.

kweliTV on maintaining streaming service subscribers amid reopenings
The total number of VOD subscribers is estimated to exceed 1 billion in 2021, but streaming platforms are uncertain whether pandemic-driven growth will stick as venues and theaters reopen and competitors branch out into podcasts and gaming. Maintaining these new subscribers means expanding content offerings as well as ensuring seamless payment experiences for a variety of currencies, says DeShuna Elisa Spencer, founder and CEO of Black-owned video streaming service kweliTV. In this month's Feature Story, Spencer discusses how streaming service providers can attract and maintain customers' attentions for the long haul.
Deep dive: How video subscription providers can build long-term growth with seamless payments
The video subscription industry's explosive growth has led to new entrants in the space, but it also creates some unique challenges. Providing smooth payments is a critical consideration, particularly because the nature of video subscriptions makes payments an ongoing touchpoint for customers. Our August Deep Dive reveals that while video subscriptions are on an upward trajectory, firms who want to grow patrons must make seamless payments a part of the equation to reduce churn and build loyalty. Research suggests services that accept five or more payment methods grow 4 percent faster than those that accept three or fewer.
About the tracker
The monthly Subscription Commerce Tracker®, a Vindicia collaboration, explores the latest headlines and developments in the subscription space.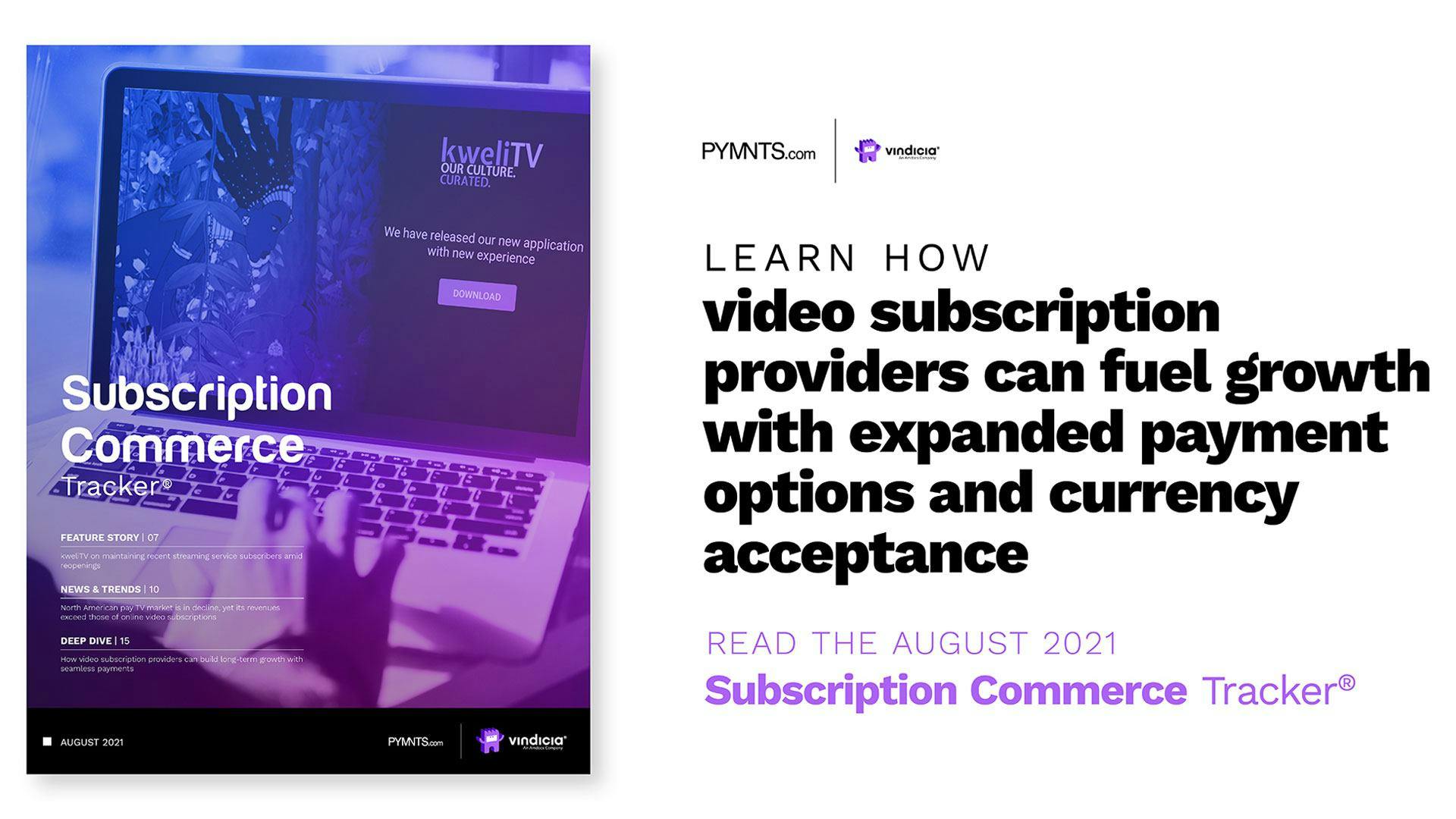 Read complete article