The role of flexible refunds in driving subscriber growth
Dec 17, 2021 | By PYMNTS.com
With a rising cost of living and finite time and money to spend on subscriptions, cost-conscious consumers are becoming pickier about what they subscribe to, particularly as the number and types of available subscriptions have proliferated. Service providers that want to keep customers engaged will have to consider how they stack up to their competition, in terms of the value they offer in comparison to the cost of their services.

Services that allow subscribers to pause their subscriptions may prevent those customers from canceling when they want to take a break. Discounts and incentives can also help keep customers from leaving, and the profit loss may be better than the alternative costs of attracting new subscribers. Bundling with other subscriptions, streamlining payments, adding content and even gamification of the subscription experience can also help retain subscribers by adding to the perceived value of the service.
The latest edition of the Subscription Commerce Tracker® examines the challenges providers must mitigate to keep their customers for the long haul.
Developments From Around the Subscription Space
Even as pandemic restrictions eased earlier this year, 84% of United States consumers reported that they continue to engage more frequently with online entertainment instead of leaving their homes for activities. The same percentage of consumers subscribe to at least one video streaming service, and the average U.S. household subscribes to four video streaming services. While many are willing to pay for their video content, 65% of consumers use ad-supported services, particularly millennial and Gen Z customers. Those younger demographics are looking for ways to save money on subscriptions, and bundles and discounts can help to retain them as customers.

A sizable share of the 44% of U.S. consumers who said they plan to cancel their cable or streaming services within six months expressed unhappiness regarding rising costs for those services. Many streaming services, including Hulu, Netflix, YouTube TV, ESPN+ and fuboTV, raised their subscription costs during the pandemic.
Most consumers are unsure whether they will cancel services or do not expect to cancel any services, with 12% and 44% respectively giving those answers. A glut of subscriptions could cause some to drop services that do not provide clear value, as 74% of consumers are already subscribed to multiple video streaming services and 78% have at least one service they subscribe to for a single show.
Subscription providers may consider alternative content to sustain and raise their subscriber numbers, such as video games. Subscriptions are growing in popularity among gamers, and 52% subscribe to at least one gaming service. Subscription gaming services are particularly popular among console gamers, with 74% subscribing to a service. The preference skews significantly toward younger gamers but peaks with millennials, 75% of whom have at least one gaming subscription.
For more on these stories and other subscription commerce developments, check out the Tracker's News and Trends section.
Bespoke Post on Maintaining Steady Growth in a Saturated Market
Some subscription services are experiencing stagnation as the pandemic wanes and consumers spend less time at home, but the right combination of services can promote value and keep subscription numbers growing. In this month's Feature Story, Alvaro De La Rocha, chief marketing officer for Bespoke Post, spoke about how the retail subscription service uses a combination of personalization, customer service and broad product selection to help maintain steady growth.
Deep Dive: How Subscription Service Providers Can Stay Viable Amid Heightened Competition
From monthly deliveries of specialty cotton candy flavors to streaming providers that serve-up video, audio and games, the subscription commerce space has been inundated with options. Many consumers became more reliant on those services while spending more time at home in 2020 and 2021, but as restrictions ease and the cost of living rises, those consumers are looking to cut costs, even if it means cutting back on subscriptions. This month's Deep Dive examines how companies can ensure they are providing a subscription service that customers will want to keep.
About the Tracker
The Subscription CommerceTracker®, a PYMNTS and Vindicia collaboration, offers coverage of the most recent news and trends in the subscription ordering ecosystem.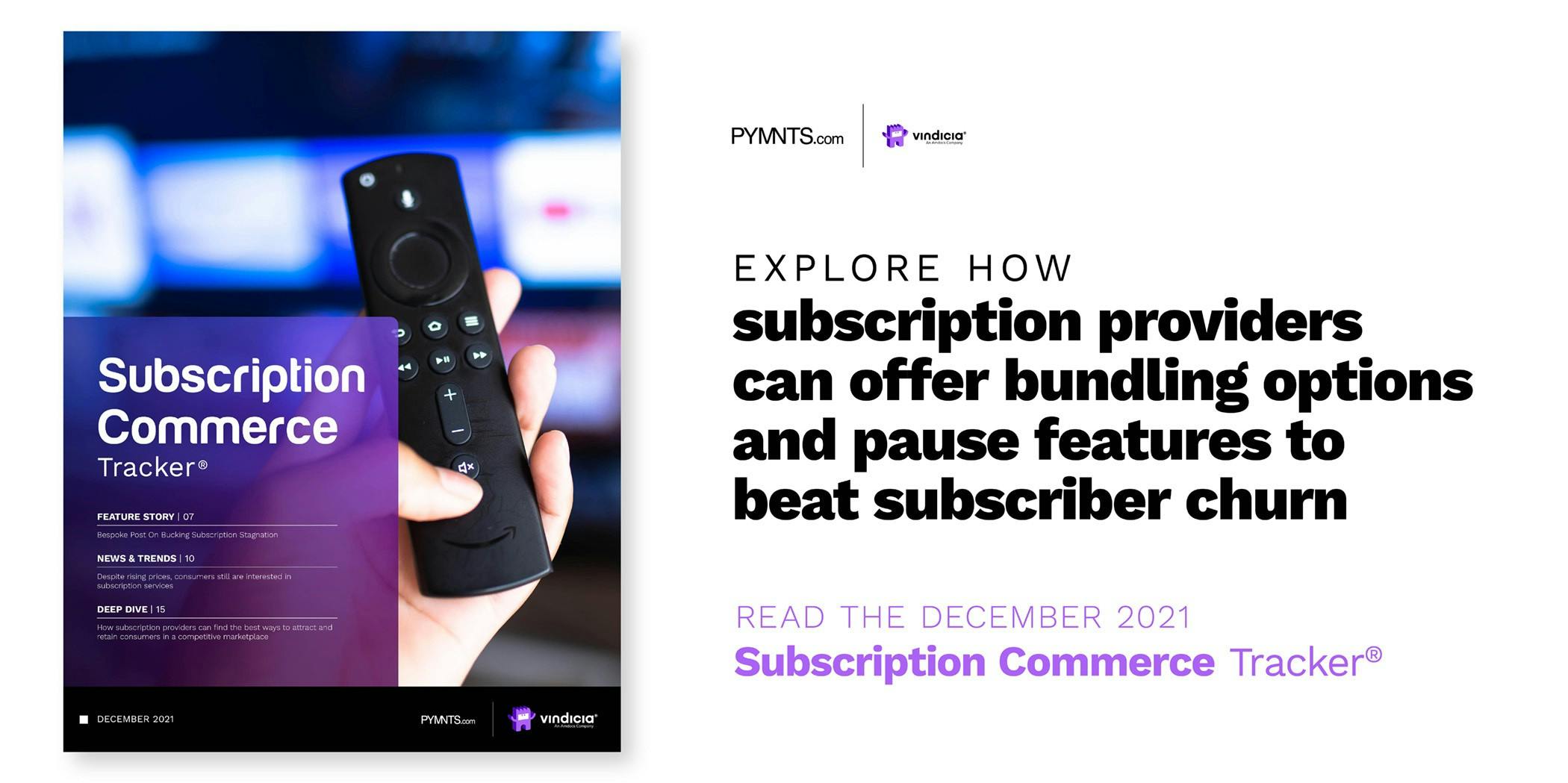 Read complete article