International Women's Day 2023 – the view from our network
Mar 7, 2023 | By iSportConnect
In honour of International Women's Day, we spoke to eight of the women who are helping to shape the sports industry at the moment. It is important for the sports business to understand where it needs to improve because this isn't just a problem for today, it is an everyday problem.
On the pitch the women's game is moving forward, with the Lionesses being a fantastic example of that, but what is it like away from the pitch?
How do women in the industry really feel about working in sport? What is good? What is bad? What has improved? And what can be done better?
In order to find out, we spoke to: 
Andrea Ekblad – Vice President, Women's Sports – DAZN
Micky Lawler – President of Women's Tennis Association
Juliet Slot – Chief Commercial Officer – Arsenal
Ali Kyrke-Smith – Director of Strategy (North America) – InCrowd
Julia Wall-Clarke – Head of Impact and Communications – Extreme E
Heather Bowler – Senior Executive Director, Communications – International Tennis Federation
Sharon Mayblum- Head of International Partnerships and Business Development – Vindicia
Betty Huegdon – Head of Finance and Operations – iSportConnect
Jeanene Valentine – Director of Ticketing, Wave FC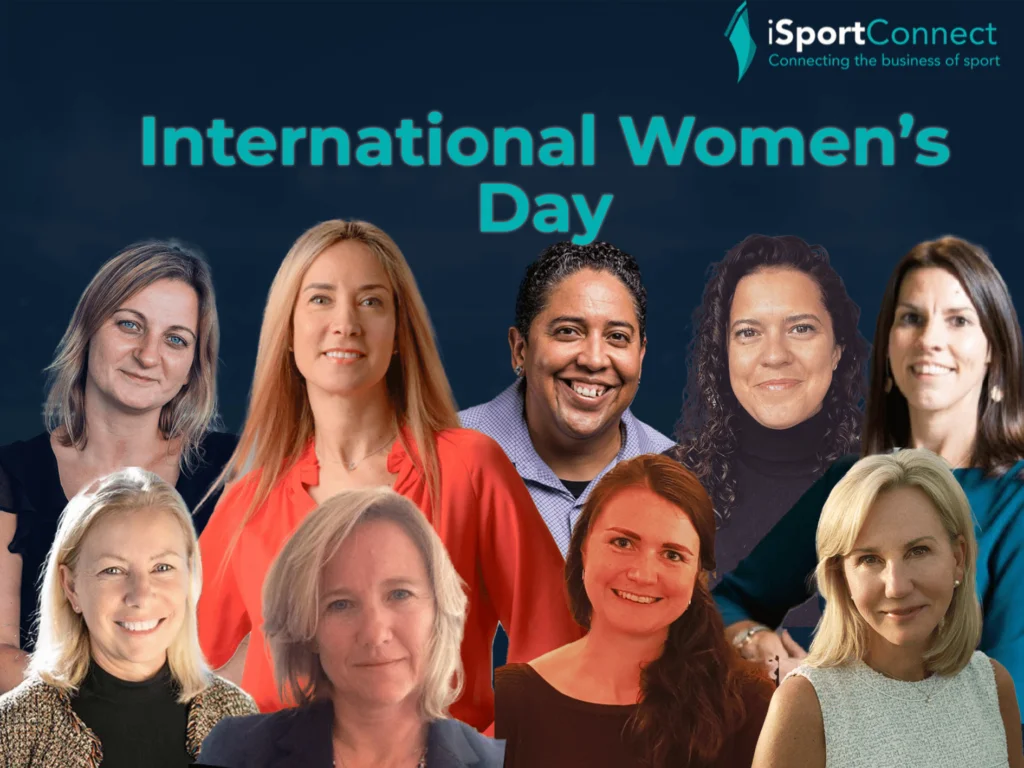 What good things have you experienced?
Andre Ekblad (AE) – If you look at my role: I am very excited to be in a role dedicated to women's sports, and women's sports only – building the Global Home of Women's Football on DAZN. Some years ago, or at the beginning of my career I was only hopeful this could one day become reality. It's really empowering to be surrounded by lots of brilliant women (some I'm lucky enough to call friends).
Micky Lawler (ML)  – In this 50th anniversary year since the WTA was founded by Billie Jean King and her courageous co-founders, it is extraordinary to have experienced the growth and the global evolution of women's tennis.
Juliet Slot (JS) – I've had the most amazing career for which I'm super grateful from Adidas to Fulham, to London 2012, agency-side, Ascot and now Arsenal. I've worked with some amazing people and had the opportunity to build and grow brands and revenue across many different properties, or for clients when I was agency-sde.  Working in an industry which is based around delivering to a passion of your customers – be it broad sports or specifics like racing and football is a huge honour.
Ali Kyrke-Smith (AKS) – The opportunity to work with some amazing people, both here at InCrowd and with the clients I've been lucky enough to work with over the years. As I turn my focus to growing InCrowd's footprint in the US, I'm looking forward to working with even more people who are setting new standards in technology, marketing and fan engagement in sport.
Julia Wall-Clarke (JWC) – I feel fortunate to have been guided by talented female leaders who inspired me hugely in my early career. Including Kate Bosomworth, Lucia Montanarella and Denise Tyler. These were all women who were juggling young families and high-pressured, fast paced roles. In the most positive way possible, it made it all feel very normal. Together, they set my benchmark for my own professional possibilities sky high.
Heather Bowler (HB) – I've travelled to all corners of the world because tennis is a truly global sport. Along the way, I've met and worked with wonderful people from Billie Jean King to Ons Jabeur to Rafa Nadal and had just the most incredible experiences. Often tournaments include young professional talent on or around the court. Many have challenging backgrounds and I've seen how our sport has genuinely transformed their lives. That's so humbling to be a part of.
Sharon Mayblum (SM) – While sports and sports business certainly have their fair share of gender inequity and misogyny, I find that sports is one of the industries where I have experienced a better overall atmosphere and long-lasting, friendly relationships. The business side of things doesn't necessarily always have to be a head-on confrontation. After all, sports are supposed to be all about entertainment, sportsmanship, and enjoyment. And in my experience, I find this for the most part to be true.
Betty Huegdon (BH) – Working in the sports business has been an amazing experience. I really enjoy the chances I get to work with like-minded people who are so passionate about sports. The business is constantly evolving and there is always something new to learn and that is so engaging.
Jeanene Valentine (JV) – My very first position in sports was with the Anaheim Ducks, a National Hockey League team in Southern California. The thing I found most appealing was the excitement written across every fan's face who entered the arena. Almost like a child on Christmas morning. That was what made me fall in love with sports and I have kept that love alive twenty years later. 
What bad things have you experienced?
AE – Some networking opportunities are still less available to women, especially to women with caring responsibilities – it would be great to open further up those.
JS – In my early career I experienced some sexism and behaviours which would not been stood for now. Back then if was normal, but now I see it for what it was.  I was the only woman on most of the boards I sat on.  That's a hard environment. Women who are direct, passionate and driven are sometimes described by their older male peers as too emotional and challenging.  That wouldn't happen to a man. Unconscious sexism is almost the worst.
AKS – It has to be that, across the board, sport is still yet to achieve gender parity, either on the pitch (from grassroots through to elite level) or behind the scenes on the administrative and commercial side. Until we reach that there is always going to be a 'bad'.
JWC – Huge progress is happening across the board. However in many cases, female athletes play second place to their male counterparts. Whether it's with salaries or sponsorship deals, we still have an ocean to cross to achieve gender parity.
HB – Sports politics!
SM – Overall, professional sports – and sports business in general – are still dominated by men. And from a compensation standpoint, men still earn more than women. It seems that women often have to work twice as hard as men just to stay even in this male-dominated industry. Things do seem to be getting better, however, which gives me hope.
BH – Occasionally I have felt excluded from informal networking events and social activities, which are a key part of building relationships. Many events are male-dominated and may involve activities that are tailored for men which can be discouraging.
What has improved?
AE – I think flexible working has given a lot more women the opportunities to have a role in the sports industry – including those who are parents, or have caring responsibilities (but of course not only limited to them). 
JS – I work in an environment both internally and externally where I am the CCO, who happens to be a woman. I don't feel that I'm battling in the way I did when I was younger. I feel supported and love working on an executive which has 50/50 male/female representation. It's brilliant and creates such a strong output.
ML – The ever-increasing competition in the area of entertainment and sports has fueled improvement across all areas of tennis. Our tournaments keep getting bigger and better with higher in-person attendance and TV audience numbers.
AKS – I'm going to give the positive counter to 'the bad' above, and highlight how heartening it has been to see the (very recent) shift in the industry's attitude towards women's sport. I think it's only in the last couple of years that leaders within the industry are beginning to understand the enormous commercial potential within women's sport.
JWC – Visibility and representation is a much bigger consideration across the industry today. We're seeing equality at the forefront of decision making in all areas from c-suite leadership to TV commentators and journalism. Our youngest generations are growing up with more female role models than ever before. The Rio Olympics 2016 GB women's hockey win in 2016 felt like a big momentum shift, through to last year's Lionesses Euros Win, these halo moments are crucial in helping build fan following. 
HB – The ITF has our Advantage All programme working hard to achieve gender parity for players on court and at the highest echelons of decision-making. Global diversity was already represented on the ITF Board, but in 2022, the ITF reformed its constitution to ensure the ITF Board elected members are at least 4 women and 4 men.
SM – Although we aren't anywhere near full equality, progress is certainly being made, both on and off the field. Today we see Cynthia Marshall serving as the CEO of the Dallas Mavericks, Kim Ng as General Manager of Miami Marlins, and Amy Howe as the CEO of FanDuel, an internet-based online sportsbook.  And of course, there's last year's stunning example of the US women's soccer team having reached a landmark agreement with their governing body to end a six-year legal battle over equal pay.  With female role models and financial wins such as these, women today seem to be aspiring higher. 
JV – It is refreshing to finally see women hired into all positions in sports front offices, which was almost impossible ten years ago.
What can be done better?
AE – As women, we are still very much in the minority in the industry. We need more women in ExCos, on Boards and senior leadership and decision-making roles, and of course more gender equality across every level. It would be great to see more companies in the sports industry trialling a 4-day working week which has shown remarkable results in a trial in the UK. This would further enable opportunities for women.
JS – I think we have made great advances in our industry in the balance of male/female but there are still not enough women at the top. In football just in the PL it is still dominated by men but that is changing and it's going to take time. 
JWC – The opportunities for women are increasing, but we do face entirely different challenges to men which need greater understanding and consideration to avoid talent being lost early. I've had many discussions with female athletes who feel apprehensive about when to start a family, whether it would affect their sponsorship deals, which they've already had to fight hard to achieve, and how they would be supported in getting back to top level performance.  Leaders, regardless of gender, need to have better awareness for how they can help women adapt and thrive in changing circumstances
HB – Change is constant, so we need to keep our eye on the ball and our mind on the next ball coming over the net after that. Tennis governance today sees the stakeholders at the top of pro tennis work more constructively together, but there is still more progress to be made. We need to pull together as a sport because I'm convinced many of our challenges and opportunities sit outside the boundaries of the game itself!
SM – I hope that more sports organisations realise the value of having more women present in the management ranks. It's important to create even more role models for women to look up to when starting their careers in sports. For example, the BBC and Sky recently announced a three-year broadcast deal for the women's football Super League, which put their matches on free-to-air TV for the first time in a deal worth over £7 million ($8.4 million) per season. We need to see many more examples like these in order to reach true equality.
BH – There is still more that needs to be improved. It would be great to see more women in leadership positions in sport and provide mentorship opportunities for women. But sport is definitely moving in the right direction.
JV – I see it now as my turn to mentor young women just entering the sports world and provide them with as much love and support needed to guide them down this same path.
Read complete article