Study: 69 Percent of consumers say they want subscription bundles
Dec 16, 2020 | By PYMNTS.com
Subscription bundles are making a comeback, especially as consumers spend more time at home under lockdown measures as the number of COVID-19 cases continues to rise. This next generation of bundling, however, gives consumers more choice and control. The streaming industry has witnessed the launch of Apple TV+, Disney Plus, HBO Max and Peacock in just this past year, but subscription bundles are not just shaking up the streaming business. They are also being leveraged by players such as Apple and Amazon to offer more robust subscription plans to various services.
The new generation of bundles has less "bloat" than legacy cable bundles that offered subscribers access to extra channels they did not use, instead giving customers a tailored subscription experience that matches their preferences. Offering subscription bundles is beneficial for businesses, too, as they can help deliver added value and attract more customers.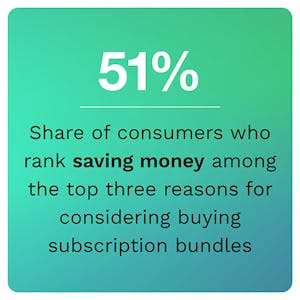 To learn more, PYMNTS collaborated with Vindicia to produce the Subscription Bundling Report. We surveyed a census-balanced panel of 2,962 United States consumers on Nov. 11 to gauge their attitudes toward bundled subscription services, particularly those offered by companies in the streaming sector. The report also examines how consumers' opinions of subscription bundles have changed during the pandemic and how the knowledge that a COVID-19 vaccine will soon be available in the U.S. could affect their perceptions.
Our research shows that the two key factors that dictate consumers' interest in subscribing to such bundles are cost and convenience. We found that millennials and Generation X, high-income earners and consumers with existing subscription services are most likely to subscribe to service bundles and want even more capabilities in the future.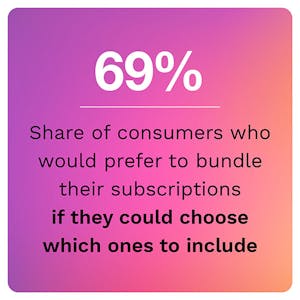 Our research also indicates that 51 percent of consumers rank saving money among the top three reasons for considering buying subscription bundles. Nearly one-third of consumers consider it to be the most important reason. Convenience is another factor that weighs heavily in consumers' decisions regarding purchasing subscription bundles. Managing access to multiple accounts can be a daunting task for consumers. They must keep track of multiple account passwords, price changes, account upgrades and even changes in service agreements. Consumers consider this to be too much of a hassle, as 43 percent of consumers chose "the convenience of being able to access services through a single account and log in" as one of the most important factors that make subscription bundles valuable.
The study also found that consumers with the most subscription plans more commonly prefer subscription bundles. The likelihood of conversion to subscription bundles increases as the number of accounts rises. The share of consumers who prefer subscription bundles is as high as 79 percent for consumers who already subscribe to a greater number of services. Interest is also high among those with three to five subscription plans (72 percent) and those who have two or less (61 percent).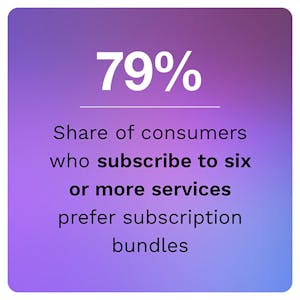 These are only some of the findings in the Subscription Bundling Report. To learn more about the key factors driving consumer subscription bundling, download the report.
Read complete article