May 25, 2021 | Authored by: Jesus Luzardo
Retention – every minute counts
If you're a CFO, CSO or CMO, one thing that keeps you up at night is customer churn.
Everyone today is talking about "customer lifecycle." Acquire, nurture, convert, retain. But the reality is that part of being in business is losing some customers. Some churn is a natural part of the lifecycle. So let's look at it from another angle:
What if you could make the customer lifecycle longer?
Or in other words, how much additional revenue your company will have if you could to extend the lifecycle?
Hold on, we've got the exact answer for you.
Every minute counts
Time is money and this is especially true for the subscription business model. For every minute that a customer is not subscribed, the company is losing revenue.
Turning churn into cha-ching
There is no such thing as 0% churn. In the B2C sector, it's anywhere between 11% and 25%.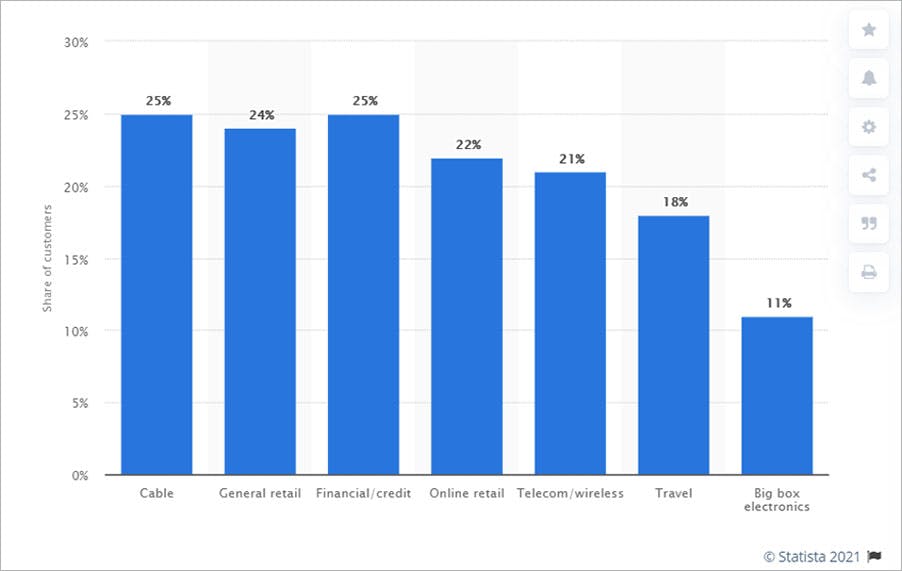 While churn tends to be lower for SaaS companies (probably due to service agreements), even the world's biggest, brightest brands are losing customers at a not-so-small rate.
Remember, though, there are different types of churn. While they all shorten the customer lifecycle, some are easier than others to fix.
For example, when a customer is dissatisfied with a service, and they decide to cancel their subscription, this is active churn. The customer expends energy and effort in removing the brand from their lives. It is a conscious decision.
On the other hand, say a customer lost their credit card, so they replaced it. Yet, they didn't update their subscription provider about the new card number, and the reminder email sent by customer support went unnoticed. So the subscription did not automatically renew, while the customer meant to continue with the subscription. This is passive churn. The transaction failed and the customer lifecycle shortened for no other reason than a technical/human error.
While there are effective solutions to manage active churn, it's generally a trickier game.
However, the revenue lost due to failing transactions? That's definitely in the category of "low hanging fruit."
Without a proactive remedy on your systems to handle terminally failed transactions, a substantial amount of revenue simply disappears, and there is no good reason why it should.
Why Vindicia Retain
At Vindicia, our retention solutions are specifically designed to combat this problem. So we crunched the numbers to find out how much we are actually saving our customers, and here it is:
Vindicia recovers $187 per minute for its customers by reducing subscription churn.
Imagine trying to generate that kind of revenue with acquisition of new customers. It will be very expensive, and It's near impossible.
However, it is entirely possible by integrating systems that identify and rectify failures as they happen, reducing churn, thus extending the lifecycle of existing customers.
Failed payments, customer churn… these are the bugbears of subscription management. But they don't have to be.
By implementing retention solutions, companies can begin the work of extending customer lifecycles and recovering revenue that is lost together with subscribers. And while there are lots of solutions out there, Vindicia's solution is based on 15 years of transaction data, and that's what makes the difference.
Although the subscriptions market has accelerated in recent years, Vindicia has been operating in the field of retention and churn for a long time. We've spent the past decade and a half gathering and analyzing customer transaction data (that's 940 million transactions and counting). It is this deep, wide data pool that powers the algorithms that drive our Vindicia Retain and Churn Management solutions, ensuring the most accurate and efficient activity based on your previous transactions.
And while data is key, it is really a means to an end – namely, the ability to build better connections and experiences with customers that keep them feeling confident, comfortable and satisfied. Going back to the example of a new credit card that was never updated, imagine being able to personalize and automate retention communications so you can invite the customer to refresh their card number, at just the right time and in just the right tone. This is how to extend the customer lifecycle and keep the revenue stream flowing stronger.
Customers can have 9 lives
The customer lifecycle is not linear. You might have lost a customer, but it is possible to get them back. After all, it is easier for a customer to stay a customer than adopt a new brand. This is especially true when a company has gone the extra mile to build a deep ongoing connection. There are many ways to do this, but one of the easiest – and one that can recover thousands of lost revenue dollars – is by making retention solutions a built-in component of your subscription system, so you can extend the customer lifecycle as far as possible.
Whitepaper
Don't hide the cancel button: 14 strategies for better subscription retention
Download
Categories