May 3, 2021 | Authored by: Jesus Luzardo
Retention management vs. loyalty management: One and the same?
Repeat customers. They are every business owner's dream.
We all know it, but let's break it down for a sec.
Customers who come back, again and again, are highly prized for several reasons. First, they drive recurring revenue. Second, they are living proof that the business is doing something right. Third, the cost of getting them to come back is much less than the cost of finding a new customer. Returning customers always have higher ROI than newly acquired ones.
That's a somewhat technical summary, although it explains why more businesses are turning to the subscription model. But it doesn't quite grasp the heart of the issue, does it? Especially now, when consumers are choosing, even more, to engage in e-commerce experiences.
In April 2020, 92% of US shoppers said that the pandemic had impacted their shopping behavior. Nearly a year later, in January 2021, that figure was 84%. Consumer sentiment is still shifting in ways that are not quite yet fully understood.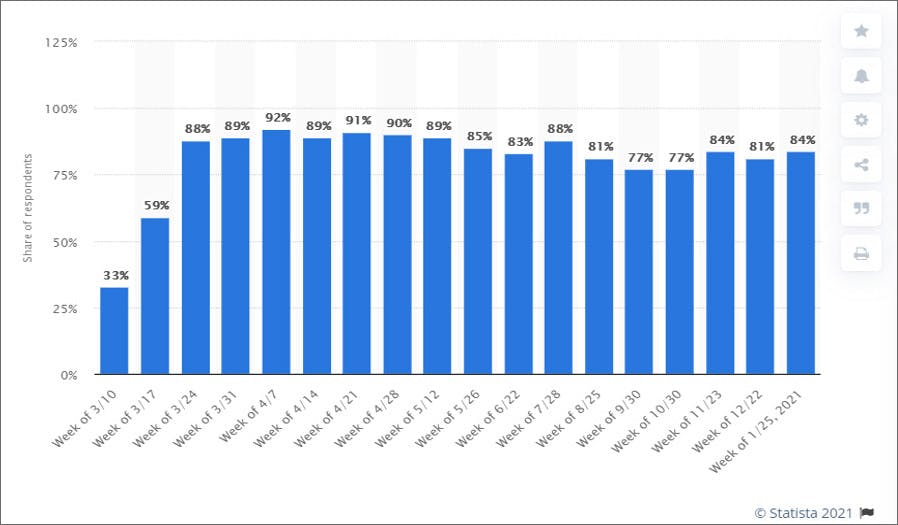 Source: www.statista.com/statistics/1111366/coronavirus-impact-on-shopping-behavior-us
Through the fog, one thing is clear: A subscription is much more than just the exchange of money, goods, and services, and that is why people love them. Concepts like annual recurring revenue (ARR) and churn rate can't really capture what's going on when a person chooses to click or skip the subscribe button. That's why businesses talk in terms of "loyalty" as well as "retention." But what are they exactly in a new subscription economy and what role does each play in the growth of a business?
Why retention is the new growth
Every decision is triggered by emotion.
This is somewhat of an "inconvenient truth" for businesses. Customer emotions are unpredictable. They are difficult to track and measure, and they get in the way of cold, hard sales data.
A subscription is a transaction designed to drive ongoing revenue, but it is also an expression of the customer's feelings towards a product or service, and a reflection of their relationship with a company. That's why it is so important to look at the subscription from two different angles: retention and loyalty.
Retention management takes the POV of the company. It's all about revenue, and the bottom line. How many customers returned to buy again? Which customers renewed their subscriptions, and which let them expire? Why did this customer churn? What is that customer's LTV? How personalized is their experience? What can be done to retain customers in the short and long term?
Retention is a complex beast, affected by some factors that are out of the control of CMOs and customer success teams. A pandemic, recession, or the unexpected rise of a competitor will all impact retention rates. And that's where loyalty comes in.
Can't have retention without loyalty (and vice versa)
As every CMO knows, loyalty is all about the customer and how they feel towards a brand, in good times and bad. It reflects their level of connection and commitment to retaining a subscription. 56% of customers stay loyal to a company that "gets" them, and brands that are viewed as meaningful and making a positive contribution to the world outperform the stock market by 134%. Perhaps emotions can't be measured precisely, but these stats give a clear indication of what customers are looking for today from brands and subscriptions.
While retention is about revenue and customer lifetime value, and loyalty is about relationships, they are not separate phenomena by any means. Strong customer loyalty boosts retention and retained customers boost the company's bottom line.
So, loyalty drives retention drives growth, but they all stem from the same thing: memorable brand experiences.
Retention drives growth, great experiences drive retention
At Vindicia, we enrich e-commerce connections and transform them to feel simple and personal anytime, anywhere.
By fostering positive, frictionless relationships between e-commerce companies and customers, there is a natural buildup of loyalty that leads to retention. By facilitating ease in the consumption of subscriptions, and by supporting excellent experiences with products and services, retention both supports and assures accumulated brand value for the customer that can lead in only one direction: more revenue.
Whitepaper
Don't hide the cancel button: 14 strategies for better subscription retention
Download
Categories